He uri ahau nō Ngāti Porou, Ngāi te Rangi me Ngāti Kahungunu.
Ko Ngāti Porou, Ngāi te Rangi raua ko Ngāti Kahungunu ki Wairoa ōku iwi.
Ko Ngāti Ranginui me Kāahu ōku hapu.
No Tikitiki, Tauranga Moana me Wairoa ahau, engari e noho ana au ki Te Whanganui-a-Tara.
Published: Wednesday, 8 March 2023 | Rāapa, 08 Poutūterangi, 2023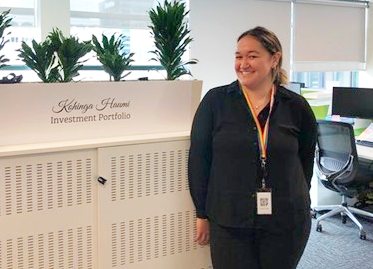 Phoebe Turner is building a career improving the public sector to work smarter for Māori.
Phoebe has been studying toward a Batchelor of Commerce with a Double Major in Public Policy and Management at Te Herenga Waka – Victoria University.
When she is not studying, she works during the year as a competitive swim coach. "I get to support both the young talent and the club that gave me so much during my time as a competitive athlete".
Along with 15 other interns, she was part of the latest cohort to gain valuable work experience through the annual three-month Te Puni Kōkiri Summer Internship Programme.
She worked in the Regional Partnerships and Operations Puni as the Investment Planning & Support Team Intern at our National Office, Te Tari Matua, in Pōneke during the Summer of 2022.
"I wanted a safe and positive environment to apply the lessons and insights I had learned through my courses at Te Herenga Waka.
"I also wanted to contribute to a Māori development kaupapa that addresses the outcomes for Māori and be fully immersed in a Māori environment to get a taste of the workforce among my own people."
Te Puni Kōkiri has run its Summer Internship Programme annually since 2015. It enables interns to get work experience relevant to their studies along with a firm grounding in kaupapa Māori at our national or regional offices.
The internships support our strategic priorities of continuing to grow a skilled Māori workforce and improving equitable and effective public sector performance for Māori.
Phoebe had the opportunity to build her kete of knowledge by supporting the assessment of funding proposals, working on the contracting phase of the investment lifecycle, and working on reporting and data management.
She hopes to work toward a master's degree after completing her undergraduate qualification. Phoebe aims to return to the public sector "especially in a position in areas that work to uplift the outcomes for Māori".
When asked if there was a particular whakataukī that resonated with her, she chose: Ēhara tāku toa I te toa takitahi, engari he toa takitini.
"I wouldn't be the person I am today without all the support I've received on the way – particularly from my whānau. "
We welcome interns from all backgrounds who have diverse perspectives, innovative ideas and a passion for improving outcomes for Māori to enable thriving whānau. Contact info@tpk.govt.nz for further details.