Australian Indigenous and Māori business leaders realise they both face similar barriers.
Published: Friday, 16 February 2018 | Rāmere, 16 Huitanguru, 2018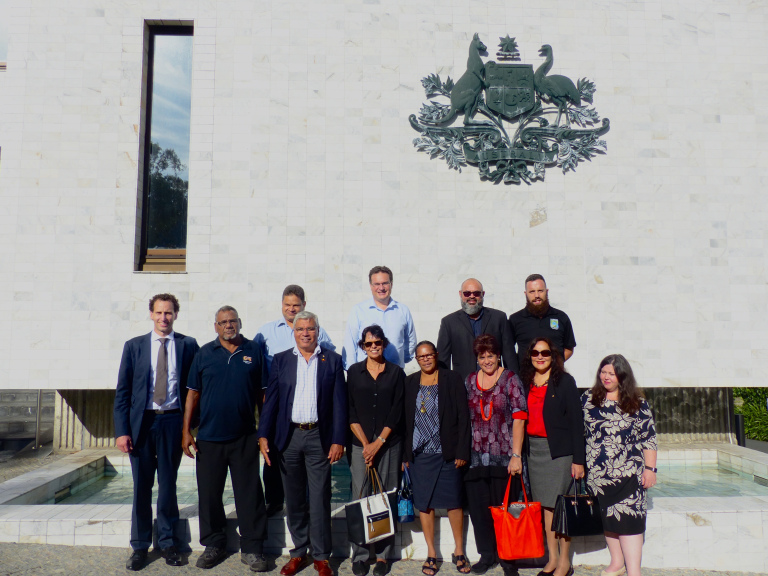 A delegation of Australian Indigenous business leaders has spent time with Māori to discuss ways to overcome the similar barriers they face on their homelands.
Thirteen Aboriginal Australian leaders, who specialise in commercial and community development, visited New Zealand between 29 January and 2 February 2018.
Te Puni Kōkiri regional and National Office teams assisted the Australian High Commission and the Ministry of Foreign Affairs and Trade to coordinate a Maori business engagement for the delegation.
Tāmaki Makaurau regional manager Marty Rogers said there was a lot to learn from each other.
"Māori and Australian Aboriginal business leadership face similar challenges moving forward," she said.
"That includes issues such as access to capital, management of diverse assets including land, delivering social services and how to maximise value for our indigenous owners."
Briefings from Te Puni Kōkiri, the Ministry of Foreign Affairs, NZ Māori Tourism, the Māori Land Court and Waitangi Tribunal helped set the scene for the delegates to understand the basis of Māori economic development.
Māori Development Minister Nanaia Mahuta had a long discussion with the delegates. They were blown away by the fact that Māori hold 29 of New Zealand's 120 seats in Parliament.
Te Puni Kōkiri chief executive Michelle Hippolite met the delegates, who were later hosted by Te Puni Kōkiri National Office. They were given an overview of its role to support Māori economic and business development.
Marty said time together helped to identify if there are any issues that policy could respond to, in order to remove barriers or unintended consequences for Māori business growth.
"Aboriginal Australian communities lead an innovative approach to social procurement with their government. Their visit provides the drive to look at replicating similar models here in Aotearoa," she said.
The work between Te Puni Kōkiri and the indigenous business delegation was a great opportunity to promote Māori business opportunities overseas, and to create ongoing networks between key Māori business leadership with Australian Aboriginal business leadership.
A key highlight for the group was the display of Indigenous pride they witnessed during their week in New Zealand. The delegates took stock of how Māori people are leading with their culture, their language and an innate sense of who they were and where they came from.
Ends.