Te Puni Kōkiri is supporting the Tua o te Pae team from Wahanga Tū Kōrero / TalkLink Trust and Te Hiku Media to explore the development of the first ever synthetic te reo Māori voice that is compatible with communication assistive technology devices.
Published: Tuesday, 4 July 2023 | Rātū, 04 Hōngongoi, 2023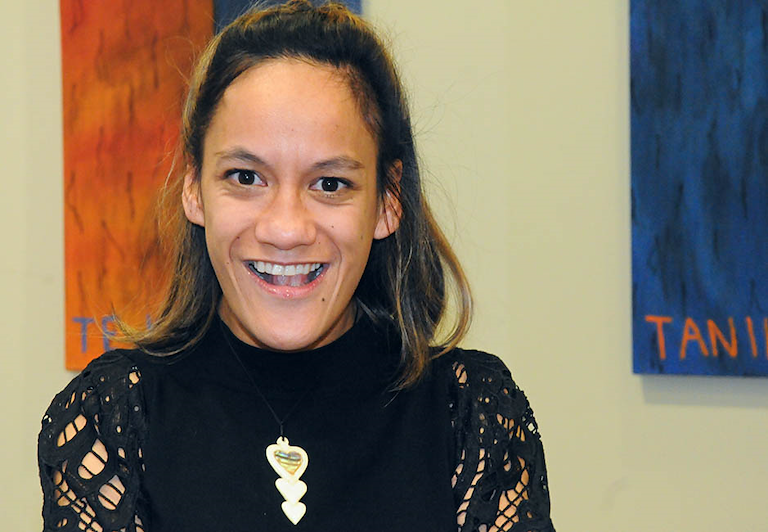 Based in Tāmaki Makaurau Auckland, Geneva Hakaraia-Tino (Ngāpuhi, Te Aupōuri and Ngāti Awa) has spent the last several years as Project Lead for Tua o te Pae. Her vision is to develop the first te reo Māori voice for augmentative and alternative communication (AAC) devices.
AAC  tools are used to supplement or replace speech for those with difficulties in the production or comprehension of language. Geneva, who has athetoid cerebral palsy and is non-speaking, uses a speech generating device to speak and actively participate in society. This has meant that she is able to pursue her passion to advocate in the disability community for tāngata whaikaha Māori and the non-speaking community.
As an ambassador of Wahanga Tū Kōrero / TalkLink Trust (a charitable organisation at the leading edge of communication assistive technology in Aotearoa) Geneva is pleased that, with the support of Te Puni Kōkiri, Te Hiku Media is partnering with TalkLink to explore developing a te reo voice for AAC devices – something she has wanted for a long time.
The partnership has been buoyed by funding from Te Puni Kōkiri to start the initial development phase, including a feasibility study from June to September 2023 exploring the technical requirements to develop the voice.
The initiative aligns with Te Puni Kōkiri strategic focus on supporting the growth of a healthy and vibrant Te Reo Māori me ōna tikanga.It also enhances the Government's Maihi Karauna strategy, which aims to have one million New Zealanders speaking (at least) basic Te Reo Māori by 2040.
Tōku reo, tōku ohooho - my language is my awakening
For Geneva, the current barrier means not being able to communicate in te reo Māori - leaving a missing piece within her life as she is prevented from participating fully in Te Ao Māori.  As she relies on assistive technology to communicate, having a te reo Māori voice available would enable her to connect more with her culture. 
Te Hiku Media are keen to find a solution
Te Hiku Media are happy to support and explore the opportunity of deploying text-to-speech technology in te reo Māori for assistive technology devices.
Synthetic voices in te reo Māori may also be used by virtual assistants and GPS apps, and by assistive technologies that create synthetic speech to speak for people with certain disabilities or serious speech impairment.
Te Hiku Media is experienced in speech synthesis as they have replicated a human voice in te reo Māori. Therefore, they see a close alignment between their mahi and this kaupapa.
This first step is significant for many tāngata whaikaha Māori and has the potential to advance the life outcomes for whānau and communities.
Te Puni Kokiri is committed to supporting this kaupapa and will work closely with other key agencies to support the funding for Phase Two: Developing the Voice. 


Photo: Wahanga Tū Kōrero - TalkLink Trust ambassador Geneva Hakaraia-Tino of Ngāpuhi, Te Aupōuri and Ngāti Awa