Te Pou Matakana recognises that in order to support whānau success, solutions must go beyond a single programme or provider.
Story courtesy of Te Pou Matakana.
Published: Monday, 24 April 2017 | Rāhina, 24 Paengawhāwhā, 2017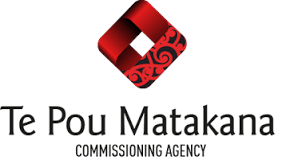 Marama is a mother of four children. In 2013, she lost all of her material possessions in a house fire, including her laptop which had all of her assignments, work and business documents. At the time of the fire, she had just completed her Bachelor of Environmental Studies and worked part-time as an administrator for small businesses and Whānau Trusts. Marama had no home or contents insurance. Marama became depressed and as a result turned to alcohol to relieve the ongoing stress. In 2014, she was convicted for DUI. She relocated her family because she was offered a job opportunity. However, once the whānau moved, the job offer was retracted due to her DUI conviction and poor credit rating. Marama took up further postgraduate studies to try to improve her job prospects, but without a laptop struggled to complete assignments as well as additional administration work to earn extra money.
"I heard about this place [Whānau Ora provider] through a friend. It makes a huge difference to talk to someone who understands who you are and where you come from. This was a turning point in my life, to remember the positive things after hitting rock bottom. You know, a laptop may seem like an extravagant item, but for me it is my primary tool for work and studies. Without it, studies, work and business things take a lot longer and cost more. I help whānau and friends write up their CVs and without a laptop I've been writing this down and then going down to the library to work on their computers. The support I received are two things to empower me and help me and my whānau to move forward. I have a business plan which shows how I will utilise my knowledge and skills and just need to find investors to help me put his into action. I am so thankful."
Mihi is 25 years old and has four children – 6, 4, and 2-year-old twins. Her business goal was to start her own business designing and making customised kids' furniture. She was declined flexi-wage by Work and Income because she didn't meet the criteria. She developed a robust business plan through her engagement with TPK's MBFS service and business mentor and required funding to buy the necessary tools to start her furniture-making business.
"This support has enabled me to start my business. There was nowhere else I could get support. When I couldn't get the flexi-wage support from WINZ I wrote to the government telling them they need to change the criteria because it was deficit criteria e.g. you had to be fresh out of jail, unable to speak English, etc… I am now running workshops at [charitable trust] for gift-making and Christmas decorating and they have offered me space to run my own courses. I want to start my business out of my garage and I will get there. This has given me the kick-start I needed to get my business up and running. I want to be more independent and I am sharing my skills with others, which I enjoy. I've already had interest from people in the community about my furniture."