A beautiful new Papakāinga in the rural Māori community of Waiohiki, located 10km south of Napier is an excellent example of whānau wellbeing.
Te Puni Kōkiri supported a whānau-centred approach by recognising the needs, strengths and diverse aspirations of this whānau to be self-determining in their desire to live in a healthy home, develop their whenua and live as a community according to kaupapa Māori.
Published: Thursday, 30 May 2019 | Rāpare, 30 Haratua, 2019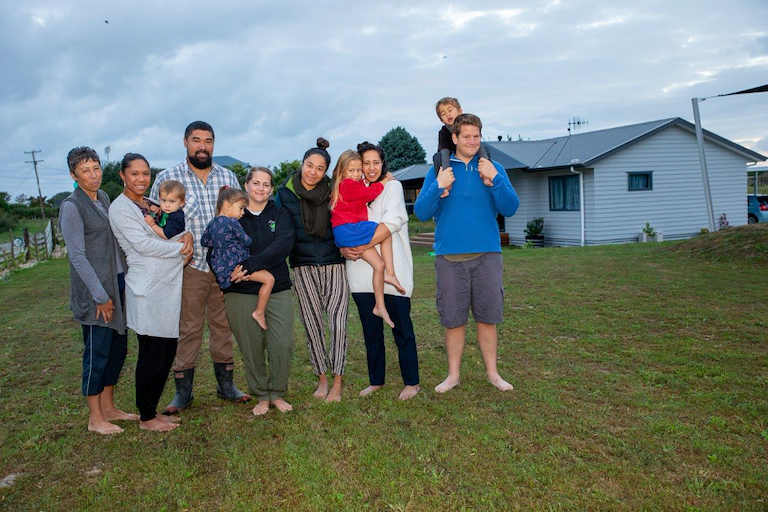 The whānau officially opened their papakāinga with the unveiling of a pou in April but have been living on site since December 2018. 
Te Puni Kōkiri, George Mackey "This has been a significant journey for the Trust and the Hawaikirangi Whānau with many learnings along the way."
It first began early 2016 with a feasibility study, before progressing to the development phase. The whānau received support to install infrastructure for five homes and support towards construction of three affordable rental homes.
"One of the challenges along the way included a delay when the Building company they were using went in to receivership."
"This papakāinga development has been an example to other whānau that achieving their housing aspirations is attainable.  Many whānau have visited the site during its development and spoken with the trustees about the process," George Mackey says.
Other agencies involved in this project include the Māori Land Court, the Hastings District Council and Kiwi Bank. 
The papakāinga has three homes that have now been completed and infrastructure is in place for two more. Hinewai's brother Rapihana Te Kaha, his wife Nat and their two children live in one of the three bedroom homes.
Rapihana Te Kaha says, "It's still a pinch me moment to realise we are in our new whare. It's pretty special to be close to our marae, awa and maunga. As trustees on the marae it's a lot easier for us now, we are just 200-300 metres down the road."
Hinewai's mother Karen and the youngest of the four children, Te Po live in the two bedroom home. Te Po says she has moved home from Auckland and is planning to travel soon. "It's nice to know I have somewhere I can come home to. With house prices the way they are today it's nice to know when I'm ready to build, I'll have an affordable option for our tamariki."
Karen or 'Nan Nan' to her four moko says, "We've always been a close family and it's good for the kids to be part of their dad's whenua. I particularly love being close to the mokos." They regularly pop in for kai and play in the papatākaro that she overlooks.
"We are close together but also have our own space. Each of the three homes are positioned to be North facing with views of Otatara and Hikurangi."
"This is a positive way that works not just for our whānau but for our wider involvement in things like the waka project and awa regeneration," Karen says.
"Each home has a garden and eventually we want to find other self-sustaining ways of living including having their own chickens," she says.
Hinewai, Cam and their two children live in the other three bedroom home and Horiana the second eldest daughter currently lives in Wellington but when she's ready will be able to build on the papakāinga.
The whānau are now living according to kaupapa Māori values, sharing the knowledge, whakapapa and stories of their whānau to the next generation, but also to the wider community.
Hinewai says, the economic benefits of returning to Waiohiki has been the establishment of their Napier Māori Tours business.  They share the stories of the area with local schools and a wide range of visitors," she says.
"While we look down from our maunga on our papakāinga we can now tell visitors the story of our Papakāinga, it's a reverse colonisation type story. Visitors get to plant a tree on the maunga as their own kaitiaki gift to our whenua."
The whānau have representatives as trustees on their marae, Waiohiki, they are involved in the awa and waka regeneration programmes and also regulars at the Marae waiata sessions every week.
They are giving back to the whenua with a busy nursery of native plants that they plant on their maunga and alongside the awa. "We've planted thousands of trees along the awa and on our maunga, we have a kaitiaki role to give back to the land," Hinewai Hawaikirangi says.