In this edition, Hon Te Ururoa Flavell talks about two pieces of legislation in the House namely Te Ture Reo Māori and Te Ture Whenua Māori and shares insight from his recent regional visits to Te Waipounamu and Waiariki.
Published: Wednesday, 11 May 2016 | Rāapa, 11 Haratua, 2016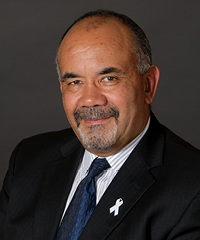 Te Ture Reo Māori
Last month the historic Te Pire mō Te Reo Māori (Māori Language) Bill passed its third reading and became law.
The Act in te reo Māori and English is New Zealand's first law with the Māori text prevailing as the language of law.  This is a milestone in our nation's history. It reflects the aspiration for te reo Māori to be a living language in all spheres of our lives including the legal system.
The new Act establishes Te Mātāwai, a new entity that will lead te reo Māori revitalisation efforts on behalf of iwi and Māori.  Te Mātāwai affirms the role of iwi and Māori as kaitiaki of the language. The Act is testament to the efforts of many reo Māori warriors who have worked tirelessly to revitalise Māori language. I pay tribute to those who have led its revival.  Kia toaitia ngā kupu rongonui a Tākuta Ranginui Walker 'ka whawhai tonu mātou.'
He reo motuhake te reo Māori ki Aotearoa. Mā tēnā me tēnā e ora tonu ai tēnei taonga.  Ko te wawata, mā tēnei Ture e whakaara ake anō i a tātou mō te whakarauoratanga o te reo Māori, waihoki, ka whakaawea ngā tāngata o Aotearoa ki te kōrero Māori. Mā reira e piki ake ai te nui o te hunga kōrero Māori.
Te Ture Whenua Māori
It was a big week in the House as the new Te Ture Whenua Māori Bill began its passage through Parliament.
I am committed to responding to the many issues that Māori land owners have raised with me.  Much of this kōrero is reflected in the principles underpinning the way the Bill is to be given effect.  The principles include:
Māori land endures as a taonga tuku iho by virtue of whakapapa;
Tikanga Māori is central to matters involving Māori land;
Te Tiriti o Waitangi is central to the application of laws affecting Māori land; and
Support for Maori land owners to develop their land if they wish. 
It is important to note that the Bill is only part of the reforms that respond to issues our Māori land owners have been grappling with.  The reforms also include:
establishing a new Māori Land Service;
refocusing the Māori Land Court; 
providing a new Whenua Māori Fund (read more about this Fund below); and
working on key Māori land issues that negatively impact on Māori land, such as landlocked Māori land; paper roads and matters related to the Public Works Act.
Regions
I recently visited Te Waipounamu and with the Prime Minister I also went to Waiariki.  Our regions are the source of key kōrero about the issues, solutions and aspirations of our whānau and our hapori.  Our role in government is to provide our whānau with access to services so they can achieve their own solutions.
When I am in communities what is always obvious and at the forefront of my mind is their aspirations for their whānau and what we can do to help them get the results they want.
I acknowledge the work our regional Te Puni Kōkiri offices do to lead, facilitate, support and encourage our whānau.  
We have to get better and sharper about always putting whānau at the center of decision-making so they have access to the services they need and can realise the opportunities they know are around them.  Community, government and iwi agencies that provide services to whānau must, in my view, try harder to do all they can to work in a way that is responsive to whānau needs.