The Minister for Māori Development and Whānau Ora talks about the series of hui whakahononga around the motu, and shares his commitment for the White Ribbon campaign against domestic violence.
Published: Thursday, 4 December 2014 | Rāpare, 04 Hakihea, 2014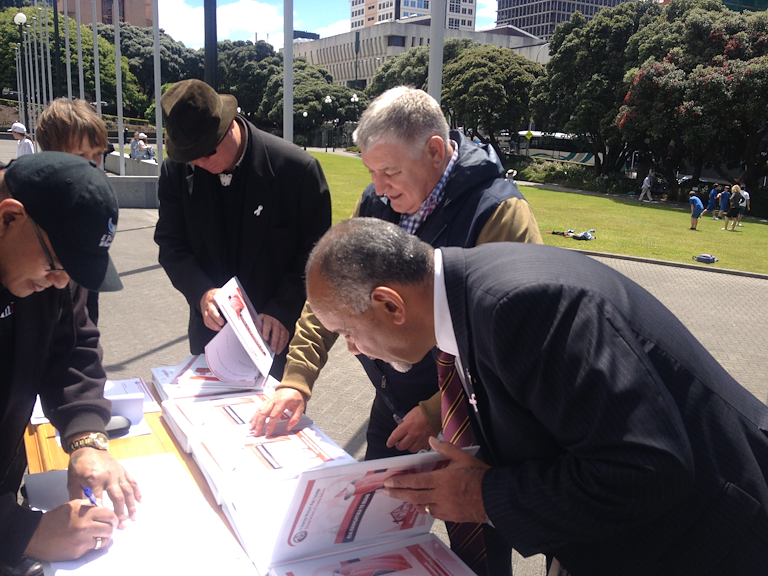 During the last month, I've heard from many people around the North Island who have shared their ideas and vision of a better future for their communities. The Hui whakahononga-ā-rohe have provided me with a critical understanding of the issues facing whānau, hapū, iwi, Māori businesses and whānau ora providers.
To say I am impressed with the work and dedication of people working in the regions is an understatement. There is an abundance of Māori talent and vision around the motu. I see my role as a Minister for Māori Development, Minister for Whānau Ora and Associate Minister of Economic Development is to enhance, support and facilitate community-driven initiatives.
I'm still planning some additional visits this month and I'll be down in the South Island near the end of January. To find out if I'm visiting your area contract your local Te Puni Kōkiri office or go to Rauika.  
I hope in the last month you have noticed men around you wearing White Ribbons because behind this small gesture is a huge symbol of hope.   Hope for a world where our wāhine, our tamāhine, our mokopuna live in a world free from the fear of violence.
I am proud to a White Ribbon Ambassador and promote this kaupapa which is about us all leading fulfilling lives free of fear.
It is unacceptable that one in three women are likely to experience violence at the hand of their partner at some point in their lives.
It is unacceptable that last year there were over 95,000 reports of family violence to the Police.
So I back the White Ribbon campaign because it sees men as being part of the solution.  
Just this week, I endorsed the publication of two indigenous best practice manuals for the delivery of Māori men's stopping violence programmes.
The two new resources - 'Kia Rangatira Te Mahi' and 'He Tapu Te Tinana' were launched outside the steps of Parliament by the National Network of Stopping Violence, Te Kupenga.
It was a small gathering but one that reminded me of the immense effort and time people put in to reducing family violence.
I pay tribute to the many men and women in our communities who work in ways to prevent domestic violence.  Theirs is a tough job, and sadly it becomes even tougher as we lead into the holiday season.
As a husband, father and grandfather, I believe that we must speak up when men say or do things we wouldn't want our wives, daughters or mokopuna to experience.
As the Minister for Māori Development and Minister for Minister for Whānau Ora, I'm committed to championing inter-generational change so we can enjoy violence-free homes. I want to ensure that preventive programmes such as E Tū Whānau and He Punanga Haumaru continue to strengthen our whānau so we can all lead fulfilling lives. 
The focus of this year's White Ribbon Day was on men talking the Pledge – to never commit or condone violence or remain silent.
The Pledge is a personal commitment to change through collective responsibility. But talking about it, and doing it are two different things. 
As men we must do whatever we can to ensure that our whānau - the girls and women we love and care about - are safe. If you want to find out more about the Pledge, go to the White Ribbon website.
That is the future I commit to for my mokopuna, my whānau, my community and my country.
It is a future I ask you to also commit to.
He kupu whakamutunga, kua tata ko te wā o te Kirihimete me te tau hou. Ko te tikanga he wā o te harikoa, o te noho tahitanga o ngā whānau. Me pērā ka tika. Kaua e tuku mā rorirori me wairangi rānei tātou e whakawehe. Mā harikoa kē tātou e whakakotahi.
Nāku noa nei, nā Te Ururoa Flavell