Te Puni Kōkiri people took to the streets along with 2500 smiling mokopuna, singing school children and other community groups, as part of the country's second ever reo Māori street parade - a big hearted event to kick off Te Wiki o te Reo Māori 2017.
Published: Friday, 22 September 2017 | Rāmere, 22 Mahuru, 2017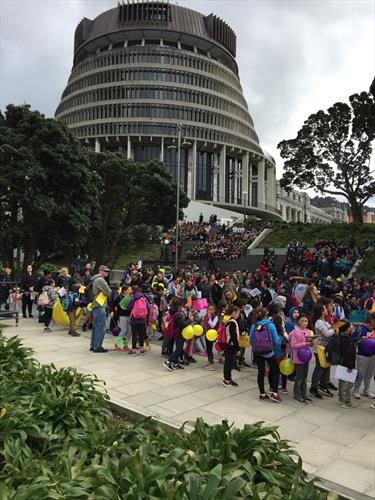 People from across Te Whanganui-a-Tara, and beyond, took the waewae express through town to celebrate the Māori language and its revitalisation. 
The parade included kura kaupapa Māori, English-medium schools, early learning services, whānau, the Fire and Defence Services, NZ Police, iwi radio, NZ Post, local and central government agencies - all with big hearts for te reo.
Te Puni Kōkiri Toihautū/Chief Executive Michelle Hippolite shared a float with reo ambassadors Stacey Morrison and Jennifer Ward-Lealand as well as Te Taurā Whiri i te reo Māori Chief Executive, Ngahiwi Apanui. Stirring entertainment along the way was provided by national kapa haka champions Whāngārā Mai Tawhiti.
More than 20 Te Puni Kōkiri people served as volunteers in the parade, donning high-vis vests and helping to keep things running smoothly and safely on the streets along the hīkoi route from Wellington's Cenotaph to Civic Square.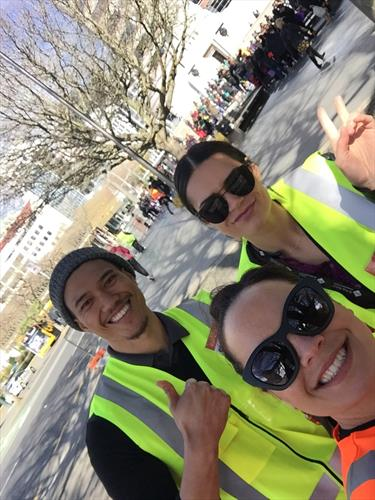 Parade volunteer and Te Puni Kōkiri staff member Hazel Kale was thrilled to be in amongst the action, despite marshalling from a fixed position on the street,
"It was awesome! I got to watch all the groups go past and I just wanted to jump in. I will definitely be volunteering again next year".
Te Puni Kōkiri people also pitched in to get a live-stream broadcast of the parade online. That way, if people couldn't get to the parade itself, they could still watch the magic online both at home and overseas. The broadcast covered the action from the parade's starting point through to the end of the concert at Civic Square.
People in 22 countries across the globe tuned in to watch the live broadcast of the hīkoi on the websites of Te Tuarā Whiri, TVNZ and the Māori Television Service.
The parade marked the start of Te Wiki o te reo Māori which this year had the theme "Kia ora te reo Māori". This can be translated as 'let the language live'.
Check out a clip from the stream here.
For ideas of how you can help to revitalise te reo Māori, check out Te Taurā Whiri i te reo Māori website.