More than 50 Te Arawa marae have used $4.3 million from the Māori Communities COVID-19 Fund to build the resilience of vulnerable communities and help hapori Māori manage the impact of COVID-19.
Published: Thursday, 20 October 2022 | Rāpare, 20 Whiringa ā-nuku, 2022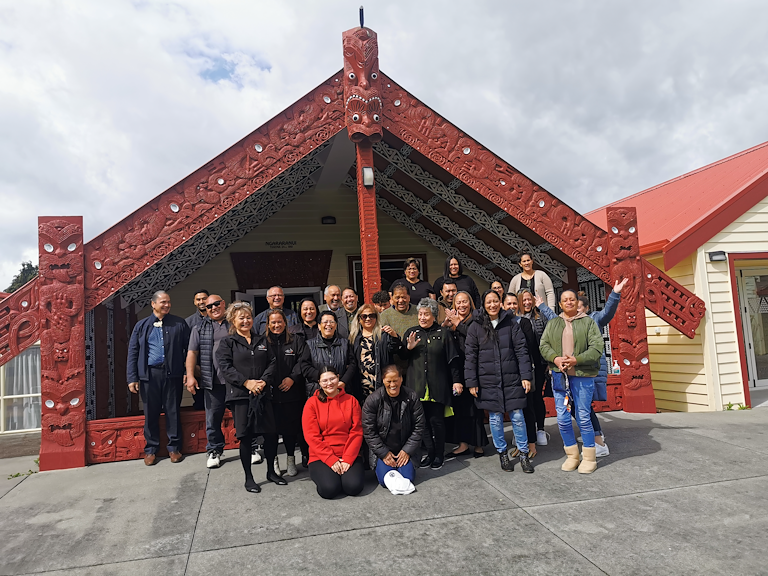 Support from the MCCF has helped 52 marae in the rohe to access the resources to support their hapori.
Te Arawa Lakes Trust have delivered short-term resilience initiatives that directly support iwi, whānau, hapū and hapori to build resilience, with leaders tailoring support to suit the individual communities.
Te Arawa Lakes Trust hunga mahi used their relationships, knowledge, and co-ordination skills built during COVID lockdown to distribute marae and community essentials.
Te Arawa Lakes Trust Pou Whirinaki lead Taparoto Nicholson says supporting the rohe on this scale has never been attempted before.
"Logistically we've delivered tens of thousands of masks, RATs and sanitiser. Holistically, we can't put a price on the support, education and guidance given during these unprecedented times of navigating life during and after COVID.
"Helping marae with funding for resilience supplies and direction on operating safely has been the fundamental highlight of this kaupapa and will benefit our people for generations to come.
"We recognise our own communities and their individual needs and having our team on the ground has been instrumental in creating a COVID-resilient rohe in Te Arawa."
As part of the funding, 48 marquees are being hapū branded and presented to local marae as an added asset, supporting their people coming together and reconnecting in a post-COVID world.

Marae are at the centre of our hapū and communities and are a key connector to whānau and hapori.
Ngāti Rangiwewehi Tarimano marae chair Karl Leonard says the marquees become a real help for whānau to host manuhiri, to cater for and use at their own discretion.
"Nā te mate nei i katia ai ō tātou marae, kāore i wātea ki ngā whānau ki te manaaki i ō rātou mate. Ko te tēneti he kāinga rua mō te whānau i te korenga o te marae." 
Due to the pandemic our marae was forced to close and as a consequence not open for whānau to host their funerals. The marquees become a viable option for whānau when marae are closed.
Te Puni Kōkiri Hautū Regional Partnerships and Operations Paula Rawiri says the project was designed to achieve higher levels of vaccination and build resilience against the impacts of COVID-19 on whānau, iwi and Māori communities.
"The Pou Whirinaki team have done an outstanding job establishing, maintaining and supporting community and hapū links – it truly is a by Māori, for Māori approach."
After supporting more than 250 kaitono across the country, the MCCF is now closed and an evaluation is underway to help shape future government initiatives.