I want others to be inspired by my journey, to go for it, and not be hesitant or let fear get in their way.
Published: Wednesday, 7 August 2019 | Rāapa, 07 Hereturikōkā, 2019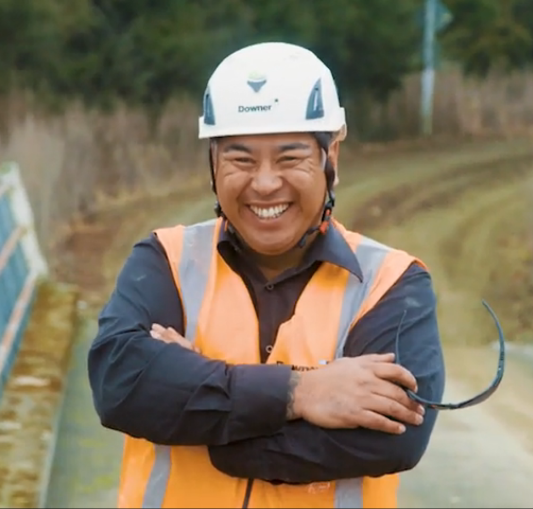 I never saw myself as a manager or a leader so when I was shoulder tapped to do the Te Ara Whanake programme I told them no.  Now I'm the one tapping on the shoulders of potential leaders and supporting them to develop their careers and progress into leadership roles," says Robert Matete (Rongowhakata), Resources Manager, Gisborne.
Robert's life hasn't been the same since completing Te Ara Whanake – the Downer cadetship programme that supports the development of Māori staff into senior positions. "It's changed me at work and at home."
"I'm a third generation Downer," says Robert. "My grandfather Kawhena Paku Matete and my father John Rapaira Matete worked on the roads and in machines and that's what I was doing. Following in their footsteps.
"I started with Downer in 1990 as a T/C Labourer in Gisborne. In 2013, Dan Gerrard, Taupō Area Manager, wanted me to take part in the Te Ara Whanake pilot programme.  He told me that I had great skills and experience but that I also had an attitude problem.
"Obviously I was shocked and angry to hear this. I went home to complain to my wife. I asked her if I had an attitude problem. She said yes!
"I agreed to do the programme for two reasons. Firstly, I needed to change. I didn't want to be that guy. Secondly, I wanted to show my work mates and my whānau that opportunities are out there and not to be afraid.
"The programme has changed me quite dramatically and quite a lot. It's given me the tools and skills to be a leader within Downer and to deliver programmes such as Te Ara Whanake to our up-and-coming leaders.
"As a manager my role is to help young Māori grow and support them to be the best they can be in this industry.
"I get to help bring through that next generation of leaders and help them believe in themselves 100%.
"I love my job because I love watching people grow. I love seeing them enter into the industry and being trained up and see them advance into different areas of the business.
"The unique thing that I bring is that I've come from the field, so I know what they are talking about, and that helps me to be able to relate to them.
"But I know I have the responsibility as a manager to be a role model. To keep calm and cool and keep my head together. To have empathy and be respectful of others and have a bit of courage.
"My whānau have seen a change. My children have seen dad work up the ladder from the machines into a management role. So I hope I'm inspiring to them but also to my wider whānau. Hopefully it attracts them to become leaders as well within their mahi and whatever they do.
"I want others to be inspired by my journey, to go for it, and not be hesitant or to let fear get in their way.
"I don't think I would have been in this role if I didn't do the Te Ara Whanake programme. I'd probably still be on the roads.
"The programme is important. We need it because it's growing Māori and building the next generation of leaders.
Alongside his management role, today Robert is a Te Ara Whanake Facilitator. Robert also respects Dan Gerard for having the courage to be honest with him.
Robert completed the Te Ara Whanake pilot programme in 2014 along with 22 other employees. Since then, Downer has supported 200 Māori staff through the programme.
Te Puni Kōkiri has partnered with Downer for over five years through the Cadetships programme. The partnership has supported 200 Māori staff to undertake the Te Ara Whanake programme but also another 200 in other Downer programmes.
The Te Puni Kōkiri Cadetships programme supports employers to develop, mentor, train and grow full-time permanent Māori staff in order for them to take on more senior roles within an organisation.