It's not unusual for a garden to grow kai. But what about maara that also grow language and communities? That is exactly what is blooming under the watchful gaze of maunga Taranaki in Te Taihauāuru.
Published: Friday, 8 November 2019 | Rāmere, 08 Whiringa ā-rangi, 2019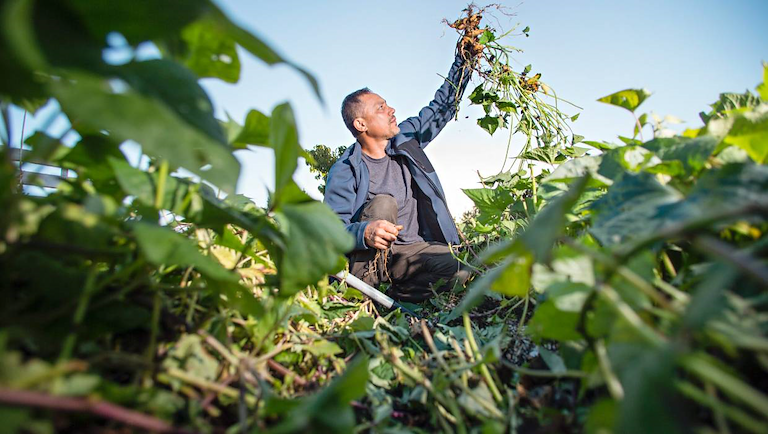 "All of our volunteers, our whānau, we are reclaiming old skills and our families," says Ngamata Skipper, Ngāti Tawhirikura Chairperson.
"By working together as family units; kaumātua, pahake and tamariki, comes the true value of whanaungatanga. And with the giving of kai, we're enacting the true value of manaakitanga".
Two successful maara kai have been established to feed the people, restore old practices and encourage whakawhanangatanga. There is 'Te Moeone' at Katere ki te Moana of Tawhirikura hapū and another in the Parihaka Papakainga called 'Maara Hāpori'. 
"The two maara kai were established in 2013 and 2014 respectively. Since then it has been a hard slog, built on the values of skill revival and manaakitanga" says Ngamata Skipper.
Now a third maara kai has been established in Kaitake this year. As Roena Ruakere -Te Uira from Te Puni Kōkiri's Taranaki office explains, it demonstrates how a community of likeminded people can give rise to a fertile opportunity.
"This maara sits on the privately owned land of the Marshall whānau. They are strong supporters of the kaupapa. They offered it and the maara whānau were only too keen to try as the whenua is a well-documented pre-European contact gardening site".
Te Puni Kōkiri has supported these maara kai through its Pū Harakeke Investment Fund for sustainable community garden projects. The Fund encourages rangatiratanga (self sufficiency), oranga (wellbeing), kaitiakitanga and mātauranga (the sharing of gardening knowledge) and whanaungatanga (co-operation with community). 
The fruits of our labour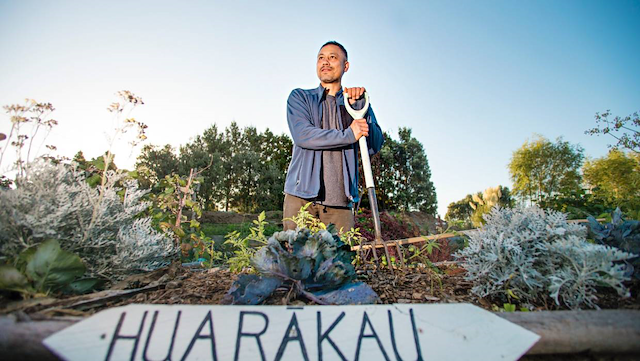 With all groups working together to plant, maintain and harvest, the maara have produced at least 500kg of kumara.  The harvests have supported the regular commemorations of Tohu and Te Whiti (18th & 19th) at Parihaka, Te Rā o Maui Pōmare (the annual celebration of Sir Māui Pōmare), Pūanga and other occasions. The gardens themselves have also been the site of many wānanga.
"The measure of success so far is not only in the bountiful crops we're producing," says Ngamata, "but also the number of people who have come on board this kaupapa".
Growing Te Reo o Taranaki
Te Taranaki Tou Kai project is as much about feeding the people physically and revitalising horticultural mātauranga, as it is about nourishing them spiritually through revitalising te reo o Taranaki says Ngamata.
The project bases itself on the network of maara kai and aims to revitalise and normalise the use of Māori at Katere ki te Moana, Parihaka Maara Hapori and Waiokena reservations.
 "Sections of the maara at Parihaka Papakāinga are total immersion Māori language. So if you go into that area of the gardens, ko te reo Māori anake [it's only Māori language]".
"That way people, especially tamariki, have a real-life opportunity to use, hear and learn the rich vocabulary associated with gardening," Ngamata explains.
"Plus they've got the playground nearby so that keeps the kids close, listening to what's going on while their parents are working in the maara. It's all exposure and normalisation of our reo".
Fertile future with whenua
Ngamata and Roena agree they would love to see other Taranaki whānau volunteer land that is currently not in use, to be turned into maara kai, at least for the short term.
Or whānau may reconsider the way they're allowing it to be used by others, such as leasing it for grazing suggests Roena.
"It might be land or properties associated with Treaty settlements that are bound up in red tape for now, but have good soil that could be growing crops while that's all getting sorted.
"Or a couple of acres of papakāinga land that will eventually have housing on it, but while the feasibility studies and talks with Councils are happening, it could be used to feed the people" Roena explains.
Maara kai and extending the diverse use of whenua Māori is exactly the sort of thing Te Puni Kōkiri is interested in working with communities on says Roena with a hearty smile.
For more information on the Māra Kai Investment Fund, contact your local Te Puni Kōkiri office.