On February 28, at a launch held in Tūranga two Tairāwhiti economic development reports were unveiled. The Tairāwhiti report funded by Te Puni Kōkiri, was written by Te Whare Wānanga o Awanuiārangi. The report explores the economic opportunities available within the region for Māori, whānau, hapū and iwi. The second is the Regional Economic Action Plan which highlights the strategic priorities for the region over the next five years.
Published: Monday, 27 February 2017 | Rāhina, 27 Huitanguru, 2017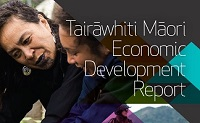 Tairāwhiti Māori Economic Development Report is about economic opportunities for Tairāwhiti Māori, whānau, hapū and Iwi. It offers critical insight and a selection of options to support and enhance te ao Māori economy (Māori world economy) within Tairāwhiti. The research was mandated by eleven iwi and Māori businesses in September 2015 in response to issues raised at a Tairāwhiti economic hui. A question posed at this hui provided the context for the rangahau (study) – what would a booming Tairāwhiti economy look like in 2040? This report offers some propositions.
The second report that was launched was Te Huarahi Hei Whai Oranga Tairawhiti Action Plan that represents the region's priorities for the next five years and provides the opportunity to work with central Government and other stakeholders in seeking transformational change in the region's prosperity.
Attached Files