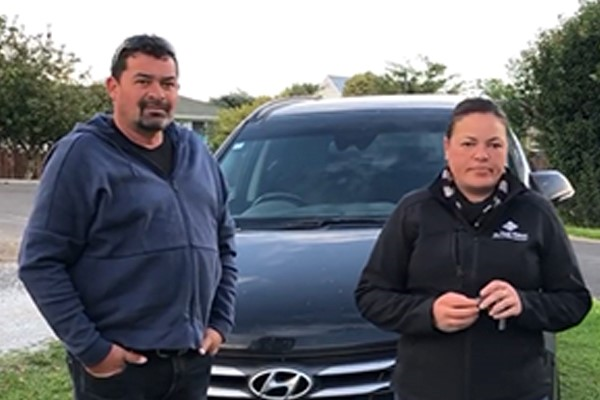 "I reached out to our iwi leader to understand that local kaumatua needed more support. Many were unsure how they would be supported, already live quite isolated lives and then, in these challenging times, can't leave their homes to do errands," Pania says.
Working with iwi and Turanga Health, Pania with her Te Puni Kōkiri hat on has been able to provide packs of essential cleaning materials, such as detergent, a range of kai, and ensure all the right messages are getting out to people.
In addition to dropping of the packs across the motu, Pania has been doing supermarket runs, picking up medicines, and assessing where assistance is needed, including whether kaumatua are getting their flu jabs.
"Many kaumatua don't like to make a fuss and don't like to be reliant on whānau. It's been good to provide them with a means of support that makes them feel independent, connected and ultimately safe in their own bubbles," she says.
"And we're not limiting this to Māori. There are Pākehā pakeke equally isolated that have needed our support. This is about manaaki for all. 'Look after the people, then the whenua and the water' – it's people at the top of the list."
You can watch the video here.
Regional Manager Mere Pohatu says, "Pania and her whānau are exceptionally community-minded. Having Pania able to move about her community to support the local Tairāwhiti Iwi is wonderful. She is also keeping a careful farming eye on local farming families during this challenging time." 
"Our work as whenua advisors is largely kanohi-ki-te-kanohi, which we can't deliver at this time," says Pania. "But we're making sure all our existing clients know about the COVID-19 business support packages available to them."
From this week Ikaroa-Rāwhiti whenua and business advisors are rolling out a call and support phone service for whenua and Māori businesses.
"Now that businesses and whānau are in their lockdown routines and it's clear what packages and advice are available, we're systematically working through our databases and calling everyone to ensure they are aware of, and can navigate, all the information that is out there," says Pania.
Each Tuesday and Thursday the region is also providing regular advice and tips on Radio Ngāti Porou, encouraging whānau and business owners who haven't been in touch to make contact if they need help or information.
Pania and Eugene King are the current Ahuwhenua Trophy holders, running the 350-hectare Kiriroa Station in the Matawai-Motu rohe in Gisborne.