This was the Minister's first official mission to Chile following an invitation to be the keynote speaker at an indigenous women's workshop in Santiago, where she spoke about Māori economic and social development and the leadership role that wahine Māori have played in addressing indigenous rights and interests in Aotearoa.
Published: Wednesday, 27 March 2019 | Rāapa, 27 Poutūterangi, 2019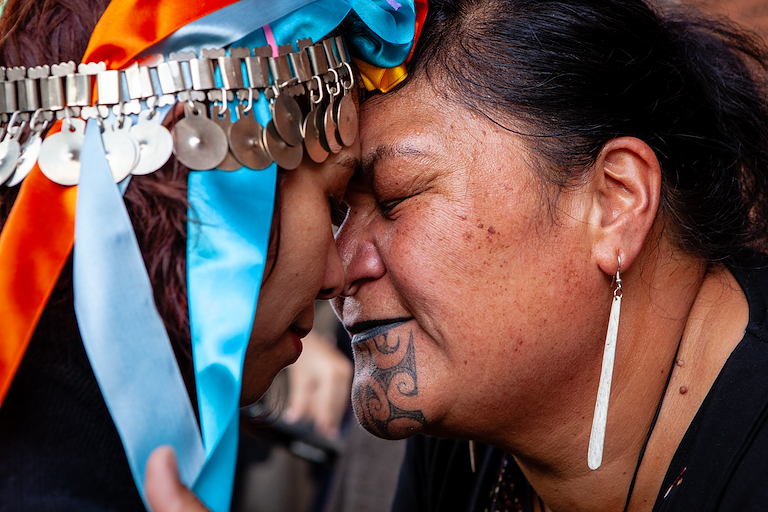 The Minister's speech was well received as she offered support, hope and encouragement to the indigenous women of Chile says Te Puni Kōkiri's Chile mission lead, Ben Matthews.
"This was a significant opportunity to remember those wahine toa Māori who contributed tirelessly to the development of our people historically and in the present, as well as share information that would grow an interest in our country and in us as a people," Ben Matthews said.
Relationships were a key theme of this visit reinforcing the value of indigenous-to-indigenous relationships. Māori have much to offer the Chileans particularly in discussions around cultural and language revitalisation, indigenous education, arts and tourism says Ben.
"Chile are interested in learning more about traditional Māori tourism and the application of technology to enhance traditional tourism experiences. Our focus on building relationships will be an important factor in raising the profile of Māori in Chile, strengthening business and trade links and creating more opportunities for future cooperation."
During the visit, the Minister also met representatives of the Mapuche people, Chile's lar
gest indigenous population, as well as with Chile's Polynesian tangata whenua, the people of Rapa Nui, Easter Island.
Ben shares that one of the key learnings of the visit was gaining a clearer picture of where Chile is at now in terms of its reconciliation journey with its indigenous peoples, the challenges and opportunities, and to share with the Chileans the experience of New Zealand and Māori.
During the visit, the Minister participated  in a ceremony to name and gift a carved pou whakairo to the people of Chile at the Centrol Cultural Gabriela Mistral in Santiago.
The pou whakairo has been named Ngā Mōrehu – those who remain.
Master Carvers James Rickard (Ngāti Porou and Hauāuru) and Karaitiana Rurehe (Ngāi Tūhoe) from the New Zealand Māori Arts and Crafts Institute both worked on the pou during the Institute's Tuku Iho Living Legacy Exhibition in Santiago in 2015.
Minister Mahuta concluded the visit with a public seminar in Temuco, where she spoke to a crowd of key Mapuche community stakeholders about indigenous development in Aotearoa.
In the Minister's address, she shared 'that there is capacity for a Māori world view to influence significant issues facing Aotearoa New Zealand including in inequality and poverty, climate change, regional growth and development, the restoration and protection of our rivers, lakes and oceans, the restoration of indigenous biodiversity and traditional knowledge, sustainable food production and economic transformation'.
"The economic development profile for Māori as an Indigenous people has matured alongside our aspirations for the future.  We are on the next stage of the journey - seeking the wellbeing of our whānau, culture and environment to lead ourselves towards greater prosperity and wellbeing.  In many respects this is the next stage of our intrepid journey."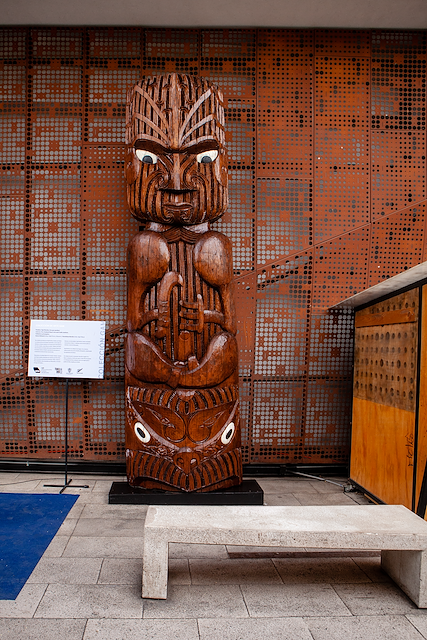 About the Pou whakairo (Māori carved post), Ngā Morehu – those who remain:
Two symbols are carved upon Ngā Mōrehu, Haehae and Pākati. The designs are derived from ancient times, when mourners would scar their bodies to the memory of a loved one, and to release grief. Haehae and Pākati remain prevalent in tā moko (Māori tattoo) design for the same reason. Grief expressed in this manner is considered the highest form of honour.
Rūaumoko is the Māori deity of volcanic energy. Haehae and Pākati also symbolise the scars that Rūaumoko leaves on our land through earthquakes. Chile and Aotearoa, New Zealand are connected by Rūaumoko and the Pacific Rim of Fire. 
So, with this carving, Ngā Mōrehu, haehae and pākati commemorate grief and emphasise how our two countries connect through Rūaumoko.
Ngā Morehu is a response to this specific site and its history, reflecting challenges of the past and symbolising aspirations for the future.