Every Wednesday around 50 Pacific Island women gather in Porirua to revive and enjoy one of the Cook Islands' most vibrant treasures, the creation of tivaevae (quilts). While Whānau Ora supports these women to practice their art form – the true investment is even richer.  
Published: Thursday, 16 November 2017 | Rāpare, 16 Whiringa ā-rangi, 2017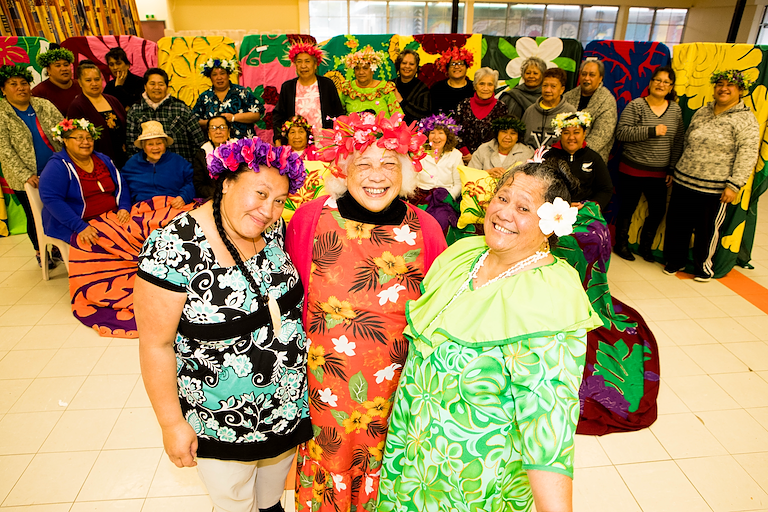 Mrs. Ngaro Teuruaa, 78, has a passion for tivaevae and shares her knowledge with other women. She leads the Mamas group, which started out as six women, mainly Cook Island mamas.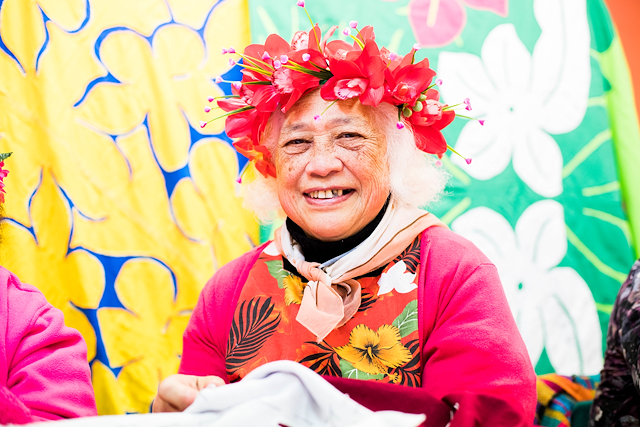 "We came together to share our love of tivaevae making. Today we have Samoan and Tokelauan mothers who are part of the group and we open up to all women willing to learn.
"I've been doing tivaevae for many years. I always watched my mother back in the Cook Islands measure the materials under an orange tree.
"I observed her every move, from drawing patterns to the cutting, but I have to say it didn't look hard at the time.
"Now I look back at how my mother did it, she made it look easy," smiles Mrs. Teuruaa.
"I think that's where my passion for tivaevae started."
Making tivaevae is special
Mrs. Teuruaa has eight children, 27 grandchildren and 34 great grandchildren. Old age is starting to kick in she says, but out of love for her family she continues her work. She finds comfort in tivaevae making. Its importance cannot be overstated.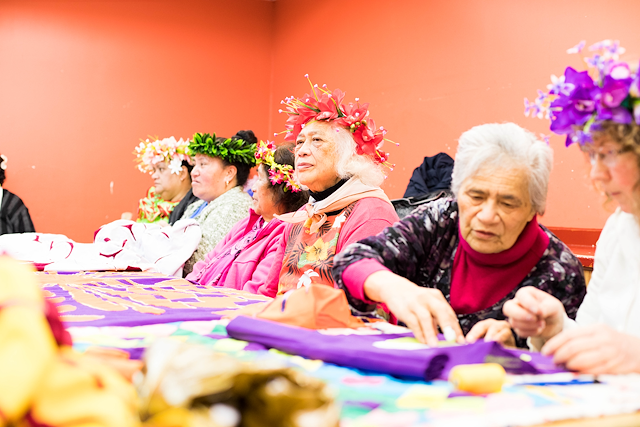 "We make them for our children. I've never sold a piece unless a family member has approached me. We make tivaevae for special occasions or for important visitors."
Tivaevae are a treasured item in the Cook Islands. You will see the colourful embroidery or appliqué quilts displayed on special occasions. It is an artwork and every person has their own special design.
"I do it for my family and I am always willing to pass on my knowledge to my children and our Pacific women who have an interest in tivaevae making."
Whānau Ora commissioning agency Pasifika Futures supports the women to teach, learn and practice the art form but the true investment is in keeping their culture alive, connecting with each other, growing strong cultural capital and a sense of belonging for themselves and others.
'Mama Donut'
It can take days, weeks or even months to stitch tivaevae. Mrs. Teaue Robati, 64, known to many as 'Mama Donut' is all too familiar with the detailed techniques and time involved.
"I weave and I also make tivaevae. I am self-taught. Growing up in the Cook Islands I learned how to make baskets, fans, mats and cushions to care of my family.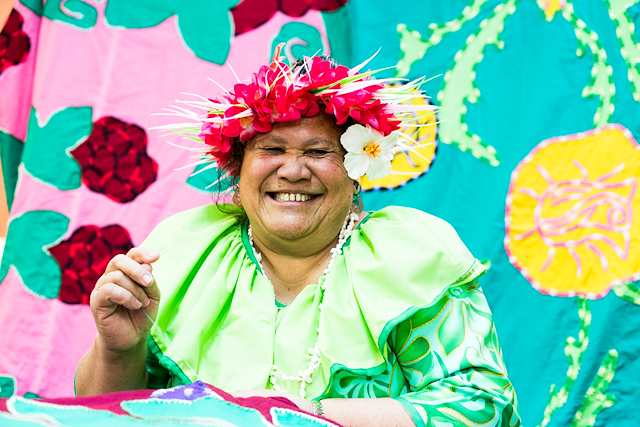 "I'm known as Mama Donut because I bake beautiful donuts for our tivaevae get togethers.
"I love being a part of this group, getting together to bond, sing songs and catch up on Island gossip. I'm enjoying myself.
"And I'm making a bed spread in case my son gets married one day. I will share this on his special day. I am also making other tivaevae for my grandchildren."
Mama Donut, who weaves for her church, is proud to be part of the 'small group of beautiful women trying to revive one of our Cook Island treasures'. She recalls it was difficult and expensive to turn the mamas' passion for tivaevae into an ongoing activity. She remains grateful for the support the group has received.
"Now we can do what we like to do best, teach other women and encourage more to join our group."
Investing in revival
'Leadership, culture and community' is one of four Whānau Ora outcomes that Pasifika Futures delivers on as a non-government Commissioning Agency that is contracted to implement Whānau Ora.
Taeaomanino Trust has also supported the group. Ms. Theresa Nimarota, Chief Executive says the Trust recognises the women's valuable contribution to reviving culture and language.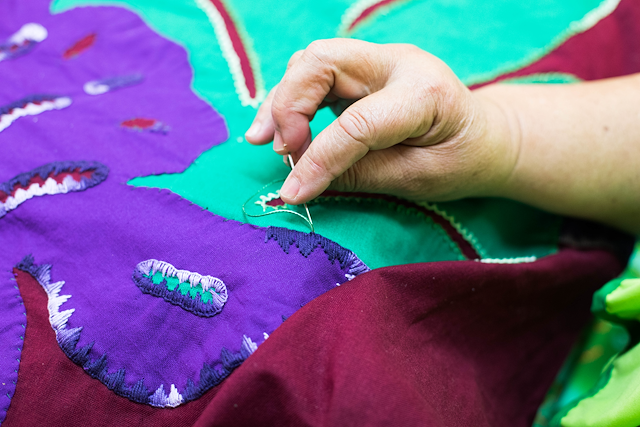 "It is the sharing, passing down of knowledge and caring for each other. It is having a place for our mamas to come together to stitch, learn and pass on their knowledge to younger generations.
"Wider support has meant that the group can do things like host visitors to come and talk with the women as part of their teaching and learning.
"The tivaevae project is amazing. You will hear a lot of singing and laughter, and witness the great fellowship these women have," says Ms. Nimarota.
This year the women exhibited their work at Pātaka Museum, Porirua. There was a strong response from the community and it attracted approaches from many groups wanting to purchase the work.
Pasifika Futures Chief Executive Debbie Sorensen is delighted to hear the women are creating an additional income for themselves, at the same time as investing in each other.
Bonds across Te Moananui a Kiwa
The beauty of tivaevae making is the sharing of cultural values, not business ventures. This is the reason Feiloaiga Maene, 50, joined the group.
"I was at the doctor's the other day and I saw one of the mamas there knitting this beautiful material. I was amazed and I told her I would love to learn one day what she's doing and she invited me to this group.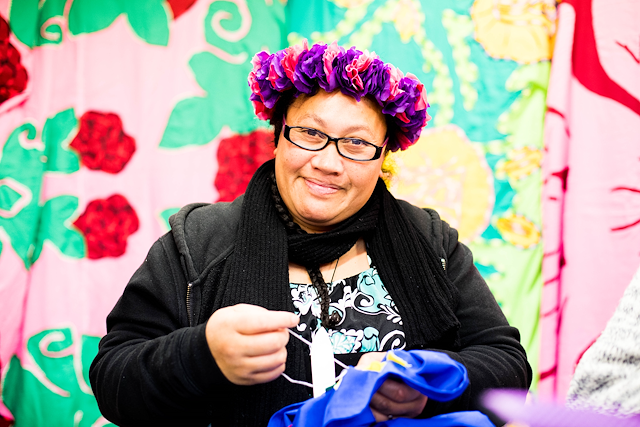 "Two months on, I am now part of the group attempting to make my first tivaevae, but most importantly I am part of a beautiful fellowship of women who have so much passion for culture and learning."
Mrs. Meane is Tokelauan-Tuvaluan and jokes she is still trying to find her Cook Island roots.
"I come from a musical background and I was the lead singer in our family band in the 1970s. I never imagined that one day I would learn how to sew or be making a tivaevae.
"I've been told each stitch has a meaning and every tivaevae tells a story. Colours are important, as are the designs and patterns. Every mother produces a tivaevae for a reason. We have unique patterns. It is like our own intellectual property," laughs Mrs. Meane.
"I love working with bright colours and hand-stitched cotton tivaevae. I'm learning as much as I can and hopefully soon I'll have a piece ready to display one day."