Several Te Puni Kōkiri staff members have taken on the challenge to speak more te reo Māori at home and at work in the month of September as part of Mahuru Māori.
Published: Friday, 22 September 2017 | Rāmere, 22 Mahuru, 2017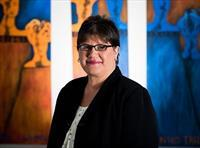 The Mahuru Māori challenge was created three years ago by language expert Paraone Gloyne, and is run today by Te Wānanga o Aotearoa.
Close to 500 people around the country registered to take part in the challenge, where they commit to speaking only te reo Māori on certain days and weeks, or for the entire month.
About two dozen people at Te Puni Kōkiri are taking part in Mahuru Māori, with the backing of their co-workers and senior management.
Chief executive Michelle Hippolite says she is supportive of the staff speaking te reo Māori at any time of the year.
"We are backing Mahuru Māori by supporting and encouraging each other to kōrero Māori at work, with some of us acting as translators for those who are only speaking Māori all month," she says.
"I have also taken on the challenge to speak more Māori this month. It is about doing what we can to ensure that we can embrace our reo and also get our mahi done."
In the lead up to September, past Mahuru Māori participants shared their experience doing the challenge last year and offered tips to help first-timers taking on the wero.
During the month, several staff members also shared stories on the Te Puni Kōkiri intranet about their unique te reo Māori journeys, to encourage others to learn Māori.
However, with about 70 percent of staff identifying as Māori, Mrs Hippolite says speaking te reo Māori is not uncommon at Te Puni Kōkiri.
"I often hear colleagues speaking te reo Māori to one another and I'm heartened that they are doing their bit for our living language and culture.
"Language is active. You can learn the learn te reo, yet speaking is the active part." 
Staff member Leigh Marama McLachlan says it has been wonderful hearing two of her team members, including her manager, only speak Māori this month.
"There have been times when I haven't fully understood their instructions, and we laugh it off and help each other out," she says.
She says it is about being patient and working together for the greater cause, which is to normalise te reo Māori.
"Speaking te reo Māori can change the tone of anything. It is a very calming language to hear and I would love it if this much te reo was spoken at work always."
The Mahuru Māori challenge will wrap up at the end of September.