Rapid response portable solar power packs are on the drawing board to help power-up marae in times of need, and Te Puni Kōkiri is supporting this important resilience building kaupapa.
Published: Monday, 24 April 2023 | Rāhina, 24 Paengawhāwhā, 2023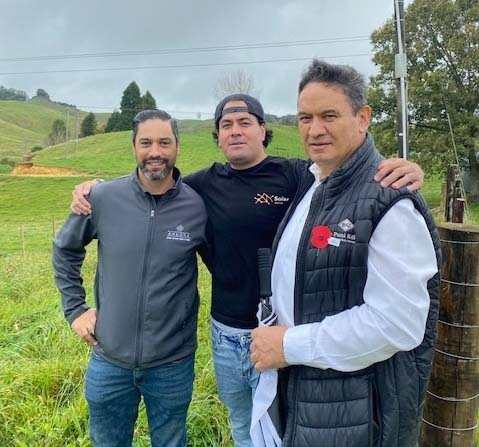 As part of the response to Cyclone Gabrielle, Māori-owned company Solar Sense quickly adapted their existing solar farm offering to create portable solar power packs for isolated whānau and marae suffering power cuts.
Small enough to fit on the back of a trailer, light enough to carry by helicopter, and packed with features, these portable solar packs are the perfect solution for isolated communities during times of crisis.
Solar Sense co-founders Aubrey Te Kanawa and Manu Barrett say, "our business goal is to create a network of decentralised solar generation sites all around the country that provide clean, sustainable power to whenua owners across Aotearoa."
"When the cyclone hit, we dropped what we were doing and saw an opportunity to support affected whānau, especially marae which are often called on to become emergency response hubs but still need a power supply to function."
"We quickly developed a mobile solar power pack with built in battery banks and satellite communications equipment. This unit can be dropped into blackout areas, for instant power and communications support."
Funding from Te Puni Kōkiri Māori Development Fund is enabling Solar Sense to make this a reality for whānau and marae to power up in times of crisis.
Solar Sense is now field testing the prototypes, accepting pre-orders, and planning the logistics to scale up production. All going well, Solar Sense expects to have the mobile power packs available by mid to late 2023.
In the future, portable solar power packs could be commonplace at marae. The lights can stay on, the wharekai producing hot meals, and a Starlink satellite internet connection powered up to provide vital communications and information for the whole community.  


Image: Aubrey Te Kanawa and Manu Barrett of Solar Sense and Jim Wilson from Te Puni Kōkiri at Te Anga Waitomo.