Two rangatahi are extremely grateful to the tutors at Vertical Horizonz for the first aid and CPR skills that aided them to save their Nana's life during a heart attack.
Published: Thursday, 26 September 2019 | Rāpare, 26 Mahuru, 2019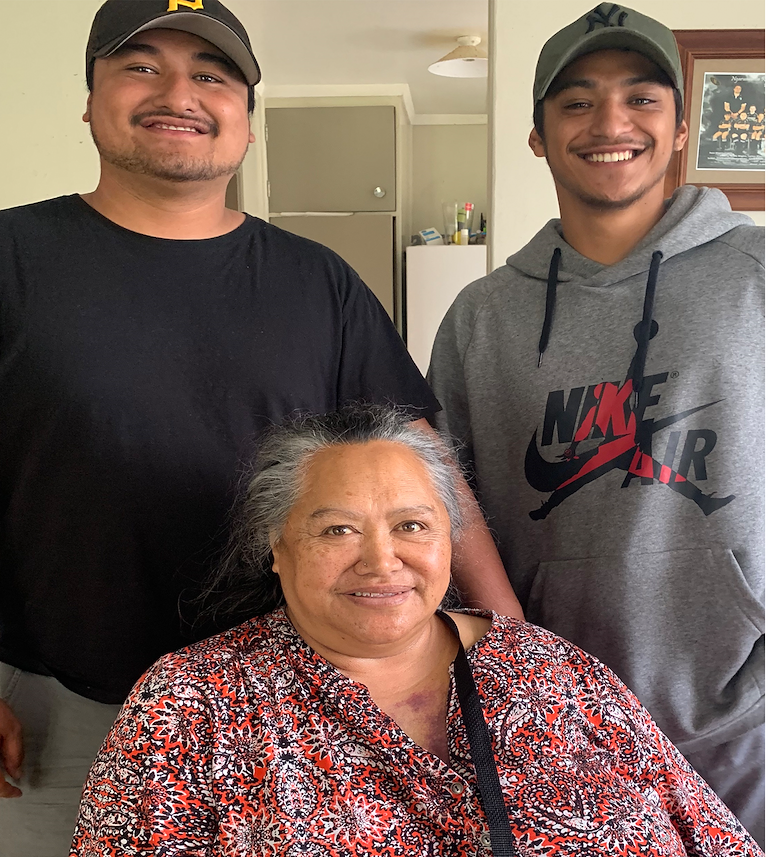 Legacy Clarke (Ngāti Tūwharetoa) and Kortez Gomez (Waikato) know each other through playing rugby league in the Waikato. Legacy plays for Ngāruawāhia Panthers and Kortez plays for Tūrangawaewae.
Both 19-years-olds are considered rangatahi NEETs (not in education, employment or training).
Legacy heard about the Pae Aronui course through MyMSD. "Matua Alex and Koro Rutene came into our seminar and I remember my cousin mentioning he was going on a course with Koro Rutene so I wanted to do the course to help out my cousin," he says.
"Koro Rutene is whānau," explains Kortez. "A couple of days after the tangi of my father-in-law, Koro Rutene brought the whānau together to a dinner, and told us about the course and I agreed to jump on it."
When Legacy and Kortez saw each other on the first day of their course, they laughed and were 'happy-as' to be on the course together.
Before the course, Legacy wanted to be a DC Welder but he now strives for more. "I want to be the boss! The course helped me realise what I'm really passionate about," says Legacy. "I want to own my own company and be the boss. I want to own my own nightclub and during the day it could maybe be a café."
Kortez wanted to become a qualified builder but now he thinks a scaffolder. "I want to be a scaffolder because I love working at heights. I've learnt how to use the EWPs (Elevated Work Platforms), cherry pickers and I really like being up high, it's been awesome," he says excitedly.
The course includes learning First Aid and CPR, as well as some work ready skills like Forklift operating, working at heights and how to use a harness. Each learning phase leads to attaining certification.
"In the first phase we learned about CPR, the symptoms to look for, and the procedures in which to take. It was the first time I learned first aid. I am so thankful I did," explains Legacy.
Legacy and Kortez were on course break when Legacy's Nana suffered a heart attack.
"We just finished our 10-day phase two, so we were in the last week of our break," says Legacy. "Nana asked me in the morning to go to town to get her medication so I did, but the chemist told me to come back in an hour and it will be ready. So we went home, dropped the car back off to my Nana's house and then went to Kortez's house just to hang out.
"The hour was up so my cousin (Kortez's girlfriend) went to Nana's to get the car and she saw that my Koro was performing CPR on my Nana and ran back screaming."
Kortez heard his girlfriend and thought she was getting attacked by the dogs, so he quickly ran up to her and that's when he found out about Nana.
"I quickly jumped the fence and ran to help," says Kortez. "I just saw Koro puffed out, so I put my hands on Nana and started compressions. We knew that you never stop doing compressions and to keep doing it until the defibrillator comes," he says.
"I saw Kortez with Nana so I quickly ran next door to call an ambulance. We were taught to ring an ambulance as soon as you can," says Legacy.
The ambulance arrived 10 minutes later with the defibrillator.
"It's relieving to know that we had the help, just grateful, just grateful. Grateful for my brother Kortez, grateful for the ambulance, I'm grateful for the Pae Aronui course for teaching me CPR," says Legacy.
"I wouldn't have had a clue, I wouldn't have my Nana this day if we didn't stay on this course and learned CPR. I tell this fullah (Kortez) every day that I love him and I'm grateful for what he has done for me."
Their learnings and quick actions were essential to saving Legacy's Nana's life after she suffered a heart attack. Nana received a pacemaker and was due for release the same day Legacy and Kortez graduated from the Pae Aronui course.
"She's coming home today. It's the best feeling in the world. I've got my Nana back and I'm so grateful," Legacy says thankfully.
"She told me 'you go do your course', and as much as I really want to be there for my Nana I know she's in the best care.
"I started something and I want to finish it, and I know my Nana and Koro will be very proud of me and the bro," he says.
Both Legacy and Kortez found the tutors and staff from Vertical Horizonz very affirming.
"Matua Phil taught me about 'aroha' and that you can't put a price tag on it, it's mean and it's beautiful. This course is bringing a different wairua to us all," says Legacy.
"It's that Māori perspective.  I feel like they show us and all we need to do is understand how to get there, instead of here's a paper, now learn. I can't learn like that."
Kortez says that the course has provided him with a lot of options and really opened his eyes.
"This course has done a lot for me actually. From being out on the streets and doing dumb stuff, thinking there was only one way, smoking drugs, doing alcohol. This course was an eye opener," he says.
Legacy declared that they've come a long way from what they were doing to now. "In 20 days we've gathered nine qualifications which is mean! I would recommend this course to anyone, any Māori, anybody that wants to succeed."
They can both see doors opening now and are running through, and will even kick that door down if need be they say. Both Legacy and Kortez are looking to stay in the Waikato to find work and remain close to Nana and the whānau.
Pae Aronui is aimed at improving education, training and employment outcomes for rangatahi Māori between the ages of 15 - 24 that are not currently in education, employment or training. It aims to empower rangatahi, so they can make informed choices about the quality of lives they will lead, including their wellbeing.
Te Puni Kōkiri partners with Vertical Horizonz a Private Training Establishment who provides structured training for workers, supervisors, managers, and people not in education, employment or training (NEET) to advance their skills, knowledge-base and careers.
Pae Aronui is delivered to rangatahi across Wellington, Waikato and South Auckland.