Everyone enjoys sitting down for a chat with friends and whānau over a nice cuppa tea including Prime Minister Jacinda Ardern who did so with a group of Māori Wardens at Waitangi.
Published: Friday, 16 February 2018 | Rāmere, 16 Huitanguru, 2018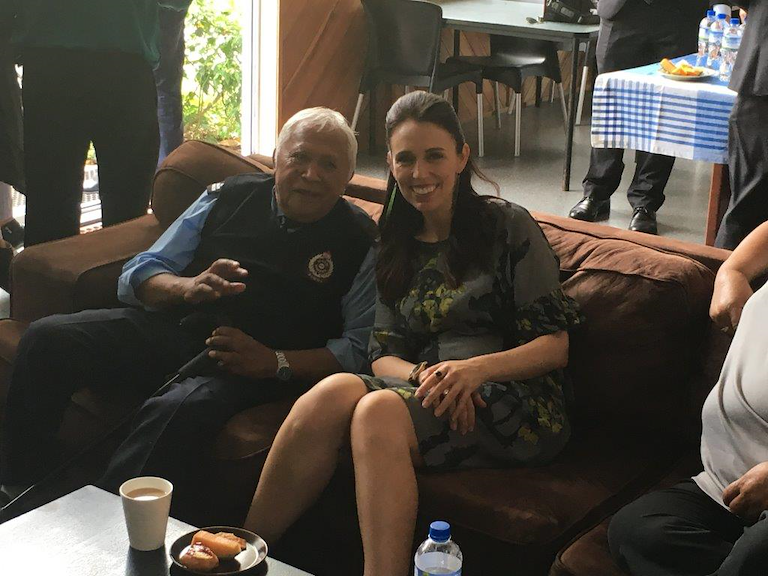 Waitangi Day brings communities together to commemorate our historic day in a range of ways and it sparks conversation throughout our nation about our journey so far and about our future together.  Te Tai Tokerau and Katikati Māori Wardens who had travelled to Waitangi ended up having such conversations over a cuppa tea with Prime Minister Jacinda Ardern.
Arranged by the Prime Minister's office, she and some members of parliament had a brief and informal cuppa tea on Friday 2 February with Māori Wardens ahead of Waitangi Day formalities.  She thanked the group for being at Waitangi and for the important role all Māori Wardens' play in making our communities safer.
"It's about helping our people," says Whangārei Māori Warden, Henare Hape. "I've been a Māori Warden for 35 years and you don't get paid but our job is to make sure our people are good and if not we are there to help them."
At Rātana earlier this year, Māori Wardens were on a break and the Prime Minister wandered over to meet them and have a chat.
On both occasions, Māori Wardens were able to share their grass root experiences with the Prime Minister.  Māori Wardens have long and close relationships with whānau and iwi, as well as non-Māori families in their communities, and its these relationships that enables Māori Wardens to really make a difference.
There are over 600 registered Māori Wardens providing thousands of voluntary hours a year at openings, large tangi, concerts and events like Rātana and Waitangi Day throughout New Zealand.
Normally support is at Te Tii Marae at Waitangi but this year a small number of Māori Wardens also supported at the top Marae during the Pōwhiri on Monday and the dawn ceremony on Waitangi Day.  Approximately 15 Māori Wardens volunteered their time at Waitangi, arriving on 2 Feb and departing on 7 Feb.