Māori Trustee Jamie Tuuta outlines Te Tumu Paeroa plans to support more Māori into the honey industry.
Published: Wednesday, 17 February 2016 | Rāapa, 17 Huitanguru, 2016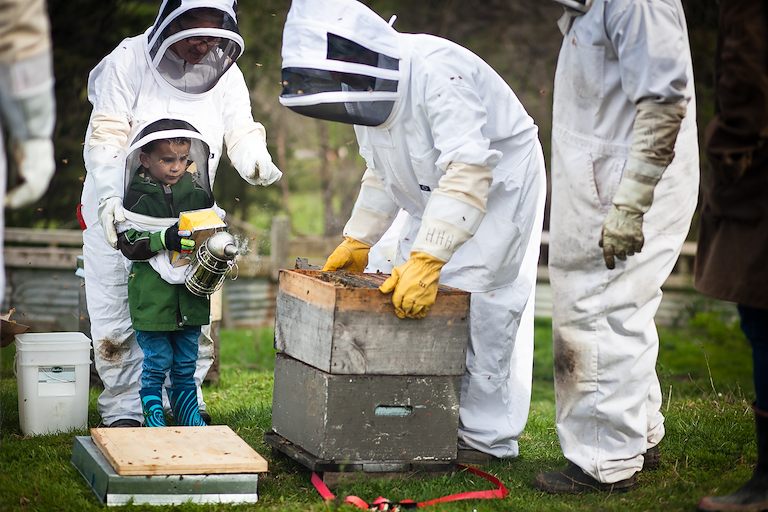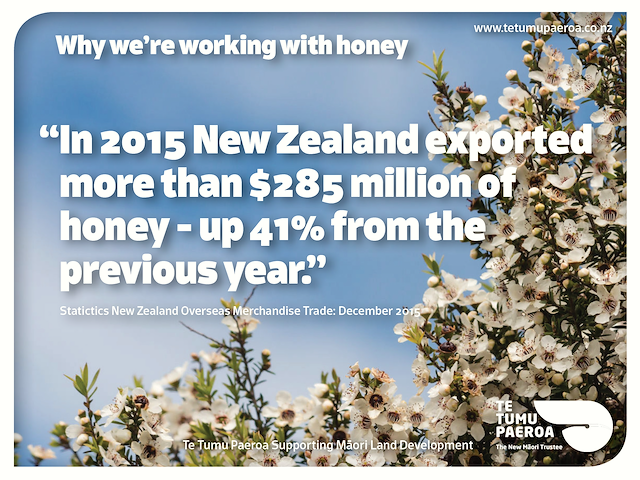 A couple of weeks ago, Statistics New Zealand released figures showing that New Zealand honey exports increased by 41% in just one year.
The same week, in the middle of Waitangi Day Commemorations in Northland, Government Ministers were out in force planting trees in Kaikohe as part of the Mānuka Planting Initiative launched at Northland College.
This initiative is part of the new Tai Tokerau Northland Economic Action Plan.
An initial 30 hectares of Northland College land will be planted in high performing mānuka cultivars for honey production.  By 2017, this is expected to extend to 100 hectares.
The aim is to provide opportunities for local long-term unemployed adults to be trained and employed to clear the site, plant and maintain the mānuka.
Honey is like the "It Girl" of the primary industry sector – our rural news pages are full of stories about its value and the pros and cons of being part of the industry.  It looks sexy and relatively easy to get into, and it is seen as a potential earner for regions in need of an economic boost.
The Statistics New Zealand release pointed to the reason that Government is so keen to support this kind of initiative.  The value of honey exports increased from $202 million in 2014 to $285 million in 2015.  Ten years ago, the value of honey exports was around the $36 million and 20 years ago around $10 million.  So to call this a growth industry is almost an understatement.
While the figures do not differentiate between different types of honey, it is widely acknowledged that the increase is due largely to mānuka honey.
Māori are not new converts to recognising the benefits of mānuka – an infusion of mānuka leaves, to ease stomach complaints was a common Rongoa or traditional Māori herbal medicine.
Now that the rest of the world is on to its anti-bacterial health benefits, Te Tumu Paeroa wants to support Māori landowners be part of this growth industry.  After all, the best mānuka grows away from pollution and agriculture in remote parts of New Zealand, so Māori have some of the most suitable land for mānuka honey production in the world.
Three years ago we piloted a system by placing hives on six Māori land blocks in Tairawhiti.  Over one three month season, the initiative returned an extra $71,000 for the landowners.
From that pilot, we established Te Tumu Miere - a not-for-profit subsidiary that supports our vision to protect and build Māori land and assets.   Its business model is based on regulating returns from beekeepers and ensuring landowners get the best possible deal from mānuka honey production on their land.
In short, Te Tumu Miere makes all the arrangements - from finding the best land to out the hives on, arranging the hives, and the collection, storage and sale of the honey.  Once the costs are recuperated, the owners get all the profits.
We administer around 100,000 hectares of Māori land, and initially we are working with owners of some of those blocks, but eventually this service will be available to other land owners.
A 2011 Māori Agribusiness Report found that 80% of the 1.5 million hectares of Māori land was underperforming or unutilised.
At Te Tumu Paeroa, we are driven to find solutions that will address that anomaly.
For us, Māori land and mānuka goes together like bread and honey.
Jamie Tuuta was a speaker at Mānuka New Zealand 2016 Conference in Taranaki.