Earlier this year a humble Māori Warden was nominated as a finalist at the national New Zealand Pride Awards, we talk with Huhana (Susan) Tūkaki about her service as a Warden which spans nearly two decades.
Published: Wednesday, 16 December 2015 | Rāapa, 16 Hakihea, 2015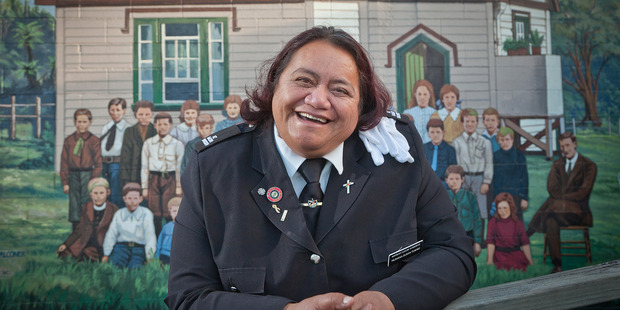 Huhana (Susan) Tūkaki has spent nearly 20 years bringing about positive change as a Māori Warden in her home-town, and the rural township where she now resides – Katikati.
It was after a few years in Whakatāne whilst working with John Hillman that Susan was inspired to continue her work as a Warden.
"It was the way he [John] walked up to these young ones and spoke to them, and they truly trusted what he was saying. I knew then that I wanted to be one of them," she says.
"I wanted to be able to go into the communities and talk to them and be able to relate to them, to the children."
Susan – known as Nan to the neighbourhood – returned to the Tauranga Moana region to continue her voluntary work as a Māori Warden. She had worked many years in other regions including assisting in the Christchurch recovery effort after the 2011 earthquakes.
She also established a sub-association of the Māori Wardens in her home town of Katikati.
In Katikati she has worked thousands of hours and constantly confronts issues - such as unemployment, suicide and homelessness – within her community.
Earlier this year, Susan Tūkaki was nominated as a finalist at the national New Zealand Pride Awards for 2015.
She describes the nomination as a moving experience, but feels there were others doing more and who are more deserving.
"I just love what I'm doing. I enjoy seeing the results, seeing the kids happy and seeing them safe. That's all the recognition I need."
Her only wish is to see Katikati return to the safe town she grew up in. "I want that for the kids - for them to feel safe like when I was their age."
Ms. Tūkaki was nominated for her selfless dedication and love for her community, working for the community as a Māori warden, and helping troubled youths.
Huhana says she's not just doing it for her home, she's doing it for each and every Māori Warden across the motu.
At the September awards ceremony she wore a korowai which paid homage to the many Māori Wardens who have passed on.
It is true to say that Susan is the embodiment of the saying, 'Aroha ki te tangata'.