The Whenua Māori Fund is supporting another land initiative with Te Puni Kōkiri in Te Taitokerau having just signed an agreement with Rewarewa D. The significance of the event and the signing was not lost on either rōpū.
Published: Monday, 3 April 2017 | Rāhina, 03 Paengawhāwhā, 2017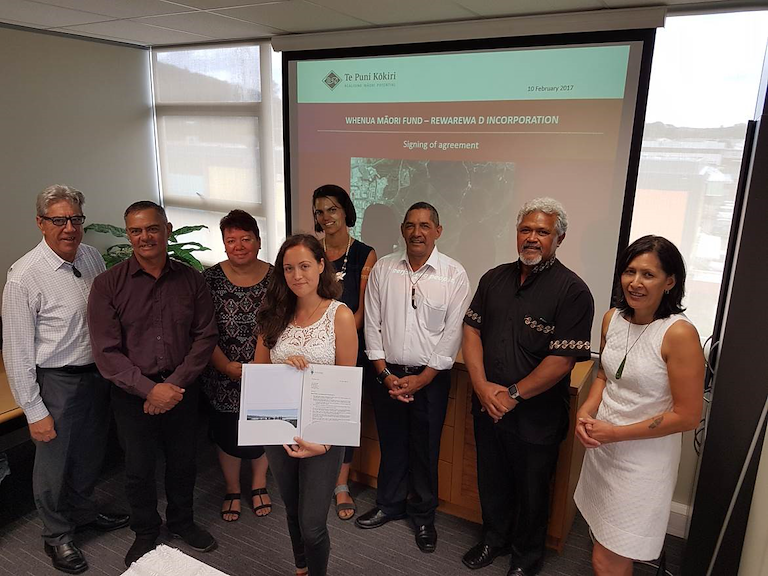 The agreement is with regards to a 70 hectare Rewarewa D which is the last bastion of Māori freehold whenua within the Whangārei urban district. The site has been the subject of a number of potential developments that for various external reasons were yet to bear fruit.
The whenua is revered by its owners – at the signing the owners said "this fund provides access to high quality advice and information to be able to take our whenua into the future."
Its future land use options will complement the existing cultural, reo and hau kainga aspirations.
Regional Manager, Tui Marsh said, "As the overall Te Ture Whenua Māori reforms progress, it is exciting that we can support our whānau who are land owners, trustees or about to be, with issues that have inhibited their wants and wishes for their whenua.  That the Whenua Māori Fund can support, enable and facilitate the commitments of our whānau with their whenua."
Whenua Māori Fund 2016 - Te Taitokerau
The first round of the Whenua Māori Fund (Fund) in 2016 supported ten initiatives from Te Taitokerau (Far North) to Te Waipounamu (South Island) received a total of $1.15m covering nearly 48,000 hectares of land. This included another Taitokerau based land block – Taitokerau Māori Forestry collective.
Te Tai Tokerau Māori Forestry Collective with support from the Fund of $266,000 is trialling a prototype and attracting new investors.    
Te Tai Tokerau Māori Forestry Collective has a membership of 10 Māori Trusts/Incorporations who collectively own over 32,000ha of land.  The funded project is a prototype that will plant up to 813ha in exotic pine between five of the trusts and will enable the collective to capture key learnings and information for its other members to begin bringing their lands into production. 
The collective seeks to increase the productive use of Māori owned assets, increase employment and skills in the region by trialling this prototype to attract new investors.  Their vision statement 'kua oti to tātou whare whakairo' emphasises self-determination and self-reliance.