Matanuku is a man who, with help from an initiative being run by the Manukau Urban Māori Authority in South Auckland, has turned his life around, and has taken steps to restore his own mana on his own terms.
Published: Monday, 25 July 2016 | Rāhina, 25 Hōngongoi, 2016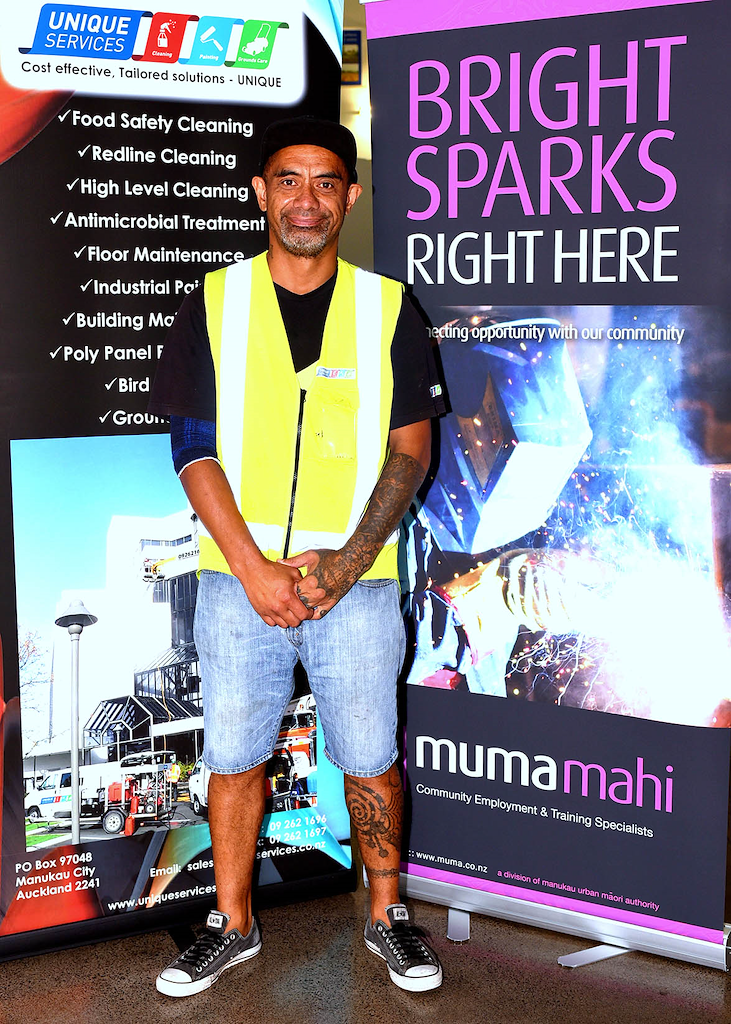 Matanuku Paul (Te Arawa) says that he's a product of his own making. He is referring to decisions he made as an adult. Decisions that he says, "took me down the wrong path."
When asked how his journey began he replies, "It doesn't have a great beginning.
"I was having trouble with whānau and was up on domestic-violence charges. I've been in and out of jail for 20 years plus, heavily involved with drugs and alcohol and gang life," he said.
"You know when you're involved with a gang, you're affiliated to a number of people across the motu, not just where you are. It becomes a way of life."
The father of three decided to make a conscious decision to change to his life because he knew if he continued down the same path it would be a downward spiral.
"I didn't want to see my family in a refuge – I had come to a point where I knew enough was enough," he said.
Matanuku decided to attend different courses that were on offer at Ngā Whare Waatea – one course in particular struck a chord with him, the Dynamics of Whānaungatanga.
"I learnt through these classes that I have the mana to achieve my own goals. That I needed to restore my own tapu, restore my own mana, and that of the people around me.
"You know I thought that I had all the mana in the world [as a gang member], but I didn't even."
As he continued through the different courses he learned he had the tools to sort out issues he once believed were truly not able to be sorted.
Matanuku was then able to change his life and in doing so change the lives of his whānau.
MUMA Mahi
It was by chance that Kylie Morgan, Manager for MUMA Mahi came across Matanuku. She was in a classroom asking students if they were looking for work.
MUMA Mahi is an initiative that assists people in South Auckland to find employment that best matches their skill sets. It is run through the Manukau Urban Māori Authority based in Māngere.
Matanuku was bashful about putting his hand up at first. His previous experiences trying to secure employment had scared him off.
"I've done a few interviews over my lifetime, you get to know what they mean by what they say.
"They're all very nice to your face, but once they see the tattoos most employers have already judged you before getting to know the story behind the person," he says.
Despite this he still put his hand up. He knew that if he kept thinking and doing things as he always had, he'd end up with the same results.
"I basically said to myself, 'what have I got to lose?'"
"At the beginning I was pretty stand-offish until I learned staff were genuinely there to help," said Matanuku. He says that if it wasn't for the wrap-around services he might not still be employed today.
"For the first two weeks, Kylie transported me to work. I was given a work wagon to get to and from workplaces until I was able to buy me a waka. Kylie still calls to check up on me and my whānau and see how I'm tracking along. They were really awesome."
Finding Employment
Honesty and integrity are the two things that co-owners of Unique Services, Robyn and Paul Schoch look for when people apply for jobs with their hygiene management company.
The pair set it straight from the get-go. They've heard all the stories before. They don't care, they just want their staff to get stuck in and do the work.
"It was a perfect match," says Matanuku. "Kylie matched us up perfectly. They really made me feel awesome.
"If I have any issues, I ask them if I can have a couple of minutes of their time, we go off somewhere and they listen. Together we sort the issue out straight away."
Matanuku and his whānau were living in a state house and having problems. When his new employers heard of his trouble they were able to assist.
"They helped me get into a new house, into a private rental," he says. "It's a lot bigger than what we had. You could fit our whole house in the kitchen of the new house," he laughs.
Despite the extra room he says the kids still "end up with Mum and Dad. As long as we're together and happy under the same roof – that's all that matters."
Life seems to be on an upward curve for Matanuku and his family. He was recently given a promotion at work which comes with a new vehicle. But even more exciting, he's now expecting his fourth child.
And Matanuku has something to say to those who find themselves in the same situation he was once in.
"Get in and be straight up with yourself and with everyone else about what you want to achieve. Utilise the services available to you. Be pono about wanting to change your life. I learned there's no 12-step programme. It's just one really. You stop!"