Māori secondary school students have shown off their flair for entrepreneurship in a series of successful workshops that have recently wrapped up.
Published: Thursday, 16 November 2017 | Rāpare, 16 Whiringa ā-rangi, 2017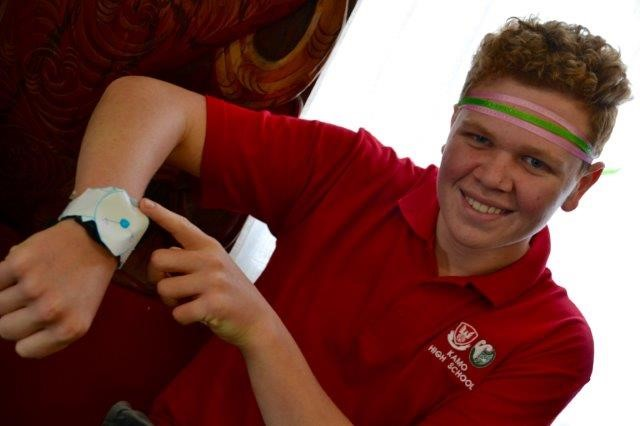 Big, innovative, community-focussed solutions such as solar powered internet, healthy vending machines and clever apps are just some of the ideas rangatahi sprouted in Māori Business Challenge wānanga around the North Island.
More than 250 students got stuck in to workshops designed to grow business skills and unleash taiohi potential, in Rotorua, Whangārei, Whakatāne, Waikato and Manawatū.
Over three days, in mixed school teams, students worked together to identify a business idea, explore the practical steps of bringing it to life, then pitch it to a panel of judges made up of local business people.
Young Enterprise delivered the wānanga series on behalf of Te Puni Kōkiri and the Ministry for Business, Innovation and Employment. The initiative came under the Crown-Māori economic growth partnership, He kai kei aku ringa. 
Rotorua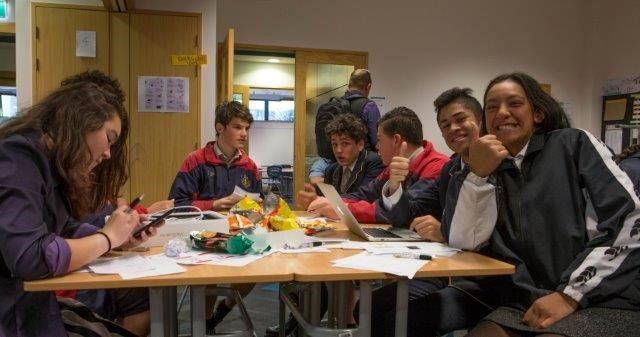 In Rotorua, about 60 rangatahi from Te Kura Kaupapa Māori o Te Koutu, Western Heights High School and Rotorua Boys' and Girls' High Schools attended the first wānanga.  
The winning business concept was Pay Park, an app that provides a live feed and information on nearby available parking spaces.
Tiki Tahana-Worrall (Ngāti Pikiao/Ngāi Tūhoe) was in the winning team. Business was unfamiliar to the 14 year old before the workshops but now he is keen to pursue it as a career.
"I rawe te uru atu ki tētahi mahi rerekē. Kua tino aro au ki te ara pakihi ināianei. Kei te tino pirangi au ki te whai i te ara pākihi ināianei," he says.
Whangārei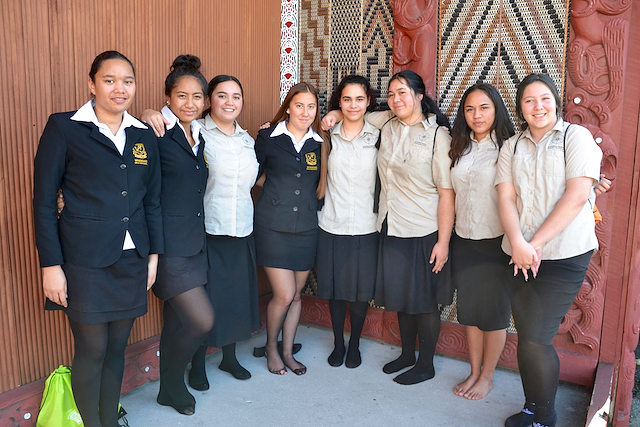 The winning team in Whangārei was 'Te Ao', from Te Kāpehu Whetū and Whangārei Girls' High School. They conducted market research to determine the level of interest in te reo Māori, the cost to create an app, and how much to charge so the app would be both affordable and profitable.
A competing team, called 'WAQ' also chose technology as their business vehicle, this time as a way to combat bullying.
"We came up with a watch, where kids can alert an adult or parents anonymously, when you're being bullied. The reason we've used a watch is that it's on you all the time, at school you can't use your phone or an app," says Cobey Walters (Ngāpuhi).
Huia Shortland (Ngāti Hine) explained the genesis of the idea, "We were just addressing some general issues in our country and we found that bullying was one of them that happens at school and different places."
Change for the better
Shane Wratt of Young Enterprise says the programme had been running for more than 25 years in schools around the country but it had mixed success with Māori students over that time and Young Enterprise never understood why.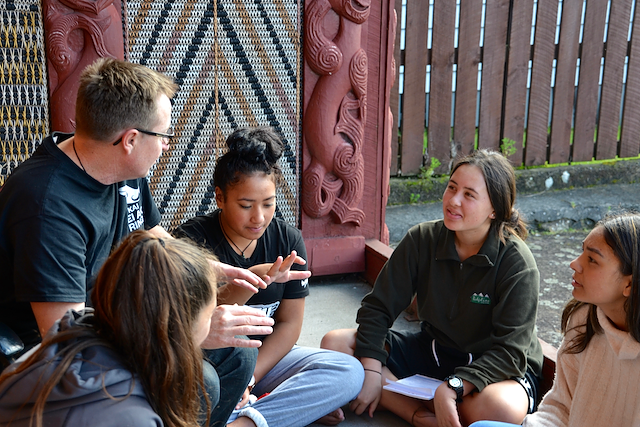 "We had an opportunity to adapt the programme under He kai kei aku ringa, so we called in two alumni, Ezekial Raui and Charlizza Harris, to help," he says. 
Shane was blown away when he saw what it meant to undertake such a shift in perspective. The process brought about 'massive change'.
"A big difference is this is the first time the course was run off site and on marae. Or even had a pōwhiri".
Shane says students had previously been polite and reserved but cautious.
"When it changed to a place they felt was theirs, we became visitors in their place. It empowered them to bring out their best work."
Local Māori business owners and motivational speakers, with a connection to the area, were also included in the refreshed programme. One of the important aspects of the wānanga is connecting young entrepreneurs with business leaders from and in their own community.
"We had a 100 per cent attendance rate for all three days of all workshops, except one. The kids were cutting their own lunch breaks short to get back to work" says Shane.
"This had to be our best programme yet."
The start of something big
Feedback from the workshop series was hugely positive; 90 per cent of students said they learnt a lot about business, 83 per cent felt more confident after the wānanga and 82 per cent said the course opened their eyes to opportunities.
Teachers were also impressed with what they saw. After the wānanga in Whangārei, Te Kāpehu Whetū met with Young Enterprise and now plans to introduce enterprise into the classroom and teach financial capability unit standards to its students.
Shane Wratt says it's exciting to be part of tomorrow's Māori business men and women taking their first steps into prosperous entrepreneurial career paths.
"We are there to help them bring out the wealth of talent they already have. It was a real privilege to be part of."