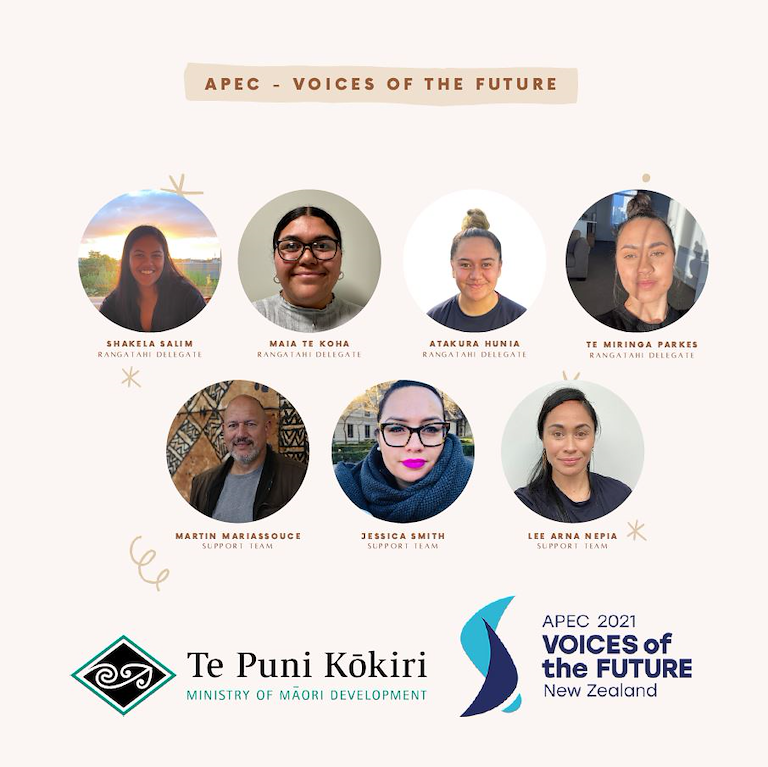 The yearly APEC Voices of the Future event brings together rangatahi from across the APEC region, creating space for them to discuss important issues, have their voices heard, and to draft a Youth Declaration, which is delivered to APEC leaders.
Voices of the Future, which took place this year on 9 and 10 November, is a unique opportunity where rangatahi can engage, network and exchange ideas with other likeminded young people, as well as interact with influential leaders.
Every year Aotearoa sends one indigenous representative to the event. However, this year Te Puni Kōkiri supported four rangatahi Māori representatives.
The rangatahi delegates are Maia Te Koha (Ngāti Porou, Ngāpuhi me Ngāti Tamaterā), Te Miringa Parkes (Te Ātihaunui-a-Pāpārangi, Ngāti Tūera, Ngāti Hinearo me Ngā Paerangi), Atakura Hunia (Ngāti Awa, Ngāti Whātua me Te Aupōuri), and Shakela Salim (Ngāti Whātua me Hingapoa).
For Maia, this opportunity meant amplifying the voices of other wāhine Māori and demonstrating the quality thinking and leadership wāhine and indigenous women possess and are willing to offer, to support the collective growth of our communities and economies.
Te Miringa said she was honoured to be able to listen, learn, and speak at this forum.
"It's such an awesome opportunity to be amongst other young leaders from around the globe, especially to be able to engage with other indigenous peoples, share our perspectives, and learn from each other."
Some of the key themes from the event were indigenous voices, diversity and inclusion, climate change, greener futures, and digital futures.
Our representatives were joined by other rangatahi Māori delegates, Te Rangitūkupu. They came together, working cohesively, to amplify the voices of rangatahi Māori at the conference.
The delegates were grateful for the opportunity to participate and have their views heard at an important international forum. They were inspired by the relationships they made and the mindsets they collectively fostered, as young indigenous leaders.
For more information on the specific ideas suggested by the Voices of the Future delegates on co-operation to combat Covid-19, a digital future, climate change, and inclusivity, or to find the full Youth Declaration, click here.