Flowing from within the ngāhere (forest) of Pureora to the confluent of the Waipā awa, is Pūniu awa (river). Once known for its clear waters, the water quality of the Pūniu has seen better days.
Published: Thursday, 24 November 2022 | Rāpare, 24 Whiringa ā-rangi, 2022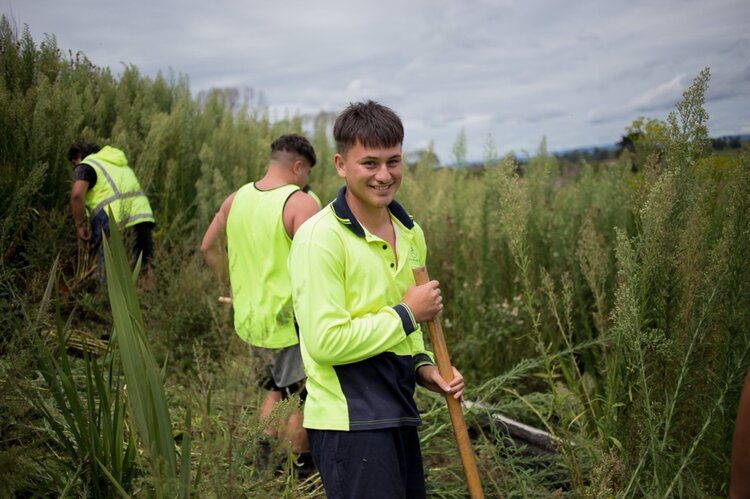 The marae-based organisation, incorporated society, and New Zealand registered charity, Pūniu River Care (PRC), has tasked itself to 'improve the water quality of the Pūniu River and replenish the taonga within the catchment'.   
Established in 2015 by Shannon Te Huia (Ngāti Paretekawa, Ngāti Maniapoto), PRC encourages the local community to be involved in the kaitiakitanga of their awa. PRC's vision of "safe places, healthy water, healthy people" encompasses their commitment to caring for the awa and their people.  
"We noticed that the horticulture industry was riddled with generic programmes and noticeable gaps in te ao Māori," says Quinton Tunoho (Ngāti Raukawa ki Wharepūhunga), the Pou Tiaki of PRC. "When we found Te Puni Kōkiri Cadetship funding we believed that this would be a way to help our people be involved in meaningful employment." 
PRC initiated their Cadetship programme in 2019. The programme works alongside their local council to upskill the cadets and fill their kete with the tools and knowledge they need to succeed in the workforce. Through Cadetships, PRC have made a space for growth which allows cadets with little prior experience to develop and flourish in their roles. 
"Our organisation prioritises tikanga and we aim to instil confidence in our cadets through their Māoritanga," says Quinton. 
This confidence encourages the cadets to navigate unknown spaces and take brave steps in growing their careers. The cadets have developed not only into further roles within PRC, but it has also functioned as a pipeline into internships and full-time employment with the local council. 
Two cadets were highlighted for their ventures post-Cadetship. One cadet has taken an entrepreneurial step in his career by creating his own landscaping lawn mowing business. Another cadet gained the attention of the local council, who found his skills and qualifications attractive and created a role entirely for him. 
PRC aligns well with our strategic priorities of Te Ao Māori and Māori Economic Resilience. The cadets are rebuilding the strength of their awa and themselves. By uplifting the mauri of the awa, they are uplifting the mauri of their whānau whanui.