There aren't enough Māori working in science, technology, engineering and mathematics and the Pūhoro academy in Palmerston North is doing something about it.

Now, Pūhoro students' are achieving pass rates that surpass nationwide averages.
Published: Tuesday, 19 December 2017 | Rātū, 19 Hakihea, 2017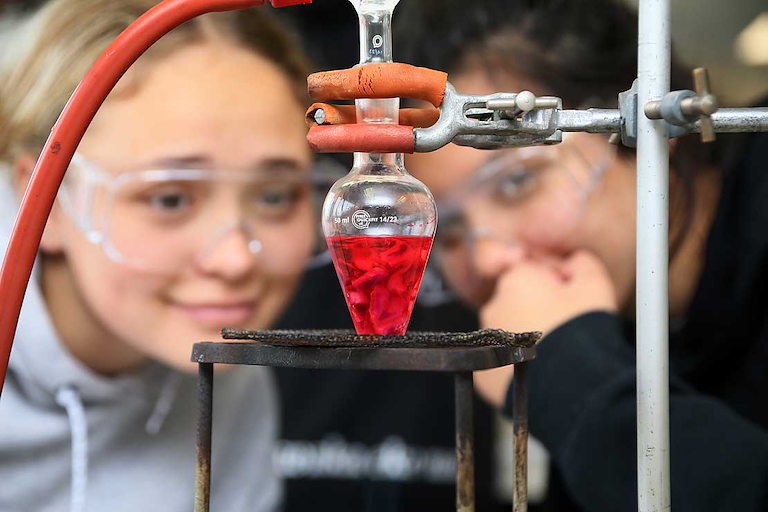 Pūhoro STEM Academy

Innovation is key to New Zealand's future economic success yet employers from STEM industries (science, technology, engineering, and mathematics) sometimes struggle to find staff.
So, it is crucial that rangatahi grow their science and technology capability.
Pūhoro STEM academy aims to meet that need by building a community of young Māori with a passion for learning science.
Out of 74,135 students studying science at tertiary level in 2017, only 7980 of these are Māori. There are plenty of opportunities for rangitahi to train and fill gaps in STEM industries when, for example, 44% of our GPs are due to retire in the next five years, and 46% of employers can't find engineering staff.
Real world experience fires passion for STEM

Pūhoro aims to encourage rangatahi to continue studying NCEA science and technology subjects right through school.
In the Pūhoro pilot, Massey University and industry partners worked with eight schools, iwi and whanau. They set up field trips and laboratory visits for Year 11 to 13 Māori students so they could experience science and technology careers in the real world of work. Rangatahi in Manawatu and the Bay of Plenty got first-hand experience of the exciting work they could do if they continued to study NCEA science subjects.
Transforming excitement into achievement

To transform their experience in science into achievement, Pūhoro mentors and tutors worked directly with rangatahi to support their classroom learning once a week. Students could talk freely about concepts they struggled with and get encouragement to complete their NCEA credits.
Students thrived under this approach.
"I feel more confident in my regular classes, more confident in what I am learning, and I feel like I understand it better."
"Because I was getting things more, I wanted to keep coming back to Pūhoro tutorials."

Supported learning gets results

Pūhoro STEM Academy's contextualised learning and mentoring not only closed the achievement gap between Māori and non-Māori students in NCEA science, students in the programme also exceeded the nationwide pass rate of non-Māori students in physics, chemistry and biology standards.
NCEA results for Pūhoro students compared to Maori and non-Māori students:
Chemistry (AS90944): Non-Māori: 67 percent, Māori: 62 percent, Pūhoro students: 87 percent.
Physics (AS90940): Non-Māori: 74 percent, Māori: 71 percent, Pūhoro student: 76 percent
Biology (AS90948): Non-Māori: 72 percent, Māori: 64 percent, Pūhoro students: 76 percent
Director of academy programmes, Naomi Manu, says she is delighted with the students' success.
"We couldn't be more proud of what our students have been able to achieve," she says.
"This all started with a desire to see a new wave of Māori students given the tools to have an impact on Māori economic development in the sciences and see Māori leadership contribute to new developments in the 21st century.
"With results like these our rangatahi are geared up to introduce the innovations necessary to take New Zealand into the new world of work."
Pūhoro STEM Academy is an initiative funded by Massey University and Te Puni Kōkiri with support from Palmerston North City Council, Te Tumu Paeroa and New Zealand Qualifications Authority.