Wellington's Pipitea Marae was abuzz with Te Kōnohete in November, a kapa haka event where several government agencies take to the stage to celebrate Māoritanga. 
Published: Thursday, 16 November 2017 | Rāpare, 16 Whiringa ā-rangi, 2017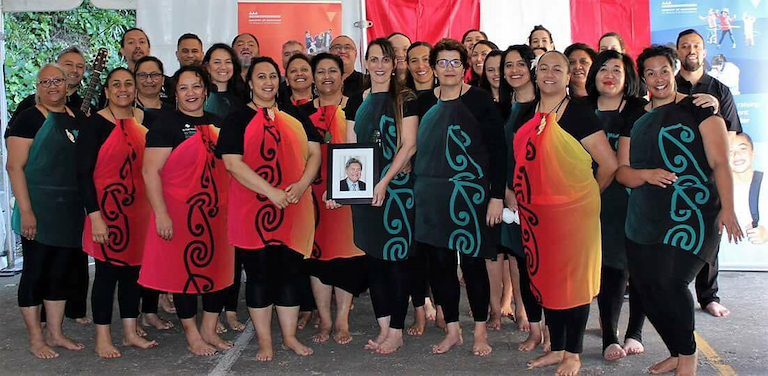 The celebration kicked off with a pōwhiri at midday, followed by a stream of 10-minute kapa haka brackets from 24 agencies including Te Puni Kōkiri, Corrections and the Ministry of Business, Innovation and Employment.
Hundreds of spectators flowed in throughout the day to see performances of poi, haka and waiata, including original items written for the event on Saturday. 
There were kai stalls and taonga Māori on offer, as well as a bouncy castle and a sand pit for tamariki to enjoy under the sun.
Te Puni Kōkiri had one of the largest groups on the day with 40 staff members coming together to perform. The bracket included three original songs, penned by regional staff members.
Taking the stage for the first time, Te Puni Kōkiri Ministerial Coordinator Theresa Wilson says it was a brilliant event filled with happy people supporting each other.
"It was great fun with a lot of nervous energy kicking in too. I hadn't done anything like that since my boarding school days," she says.
Theresa says a highlight of the event was the relief she felt after the performance.
"Afterwards we were picking up our shoes and there was huge smiles and congratulation hugs going around and the feeling of 'we did it!' in the air."
Tributes flowed from the stage for a number of significant people in the public sector who have passed away recently, including Billie Tait-Jones and former Te Puni Kōkiri Pouwhakahaere Lewis Moeau, affectionately known as 'Pāpā'.
Carrying a photo of her beloved 'pāpā', Te Puni Kōkiri Communications Manager Nicky Birch says it felt special to pay tribute to him and have him on stage.
"Pāpā was such a big part of the lives of us all at Te Puni Kōkiri," she says.
"TPK, its predecessors and government agencies were a huge part of Pāpā's life. He spent more than 60 years of his 78 years in government."
She says she was scared that she would drop his photo or cry uncontrollably and not be able to sing.
"I loved Aunty Puti Mackey's karanga to Pāpā at the end of one of his favourite songs, Nā te Mea, which we sang at the start of our performance."
'Nā te Mea' was composed by Lewis's friends Pimia and Ngapo Wehi, and was performed by Waihīrere at the 1981 Polynesian Festival.  Lewis had been a long-standing member of Waihīrere.