Te Puni Kōkiri funded the first ever roll out of life-saving wahakura ten years ago and now every district health board in the country is set to offer them to whānau.
Published: Thursday, 10 August 2017 | Rāpare, 10 Hereturikōkā, 2017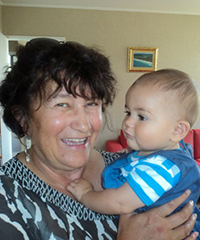 "They would say it as gruffly as 'No more Māori babies are to die," Ikaroa-Rawhiti regional manager Mere Pohatu exclaims.
A decade ago, the country was losing on average more than 60 babies every year from Sudden Unexpected Death in Infancy, which included suffocation in bed.  
Most of the deaths were Māori babies. A frustrated Māori doctor David Tipene Leach and master weaver Whaipooti Hitchiner were working to find a solution that would appeal to Māori mothers.
With the help of the Nukutere Weavers' Collective in Gisborne, they created a flax-woven sleeping pod so that babies could safely sleep in their parents' bed. They called it a wahakura.
Mere Pohatu got on board and sought Te Puni Kōkiri funding for the first mass production of the wahakura, where 85 new mothers in Gisborne received one.
"It was based on our tradition and this doctor knew there was an answer within ourselves," she says.
Dr Tipene-Leach says weaving and safe sleeping wānanga soon flooded the country and there has been a 30 percent reduction in SUDI since then, mostly among Māori.
In June this year, the Government announced a nationwide rollout of wahakura and plastic pēpi pods in September. It also set a new goal to reduce the overall rate of SUDI by 86% by 2025, a reduction from 44 to six deaths per year.
Mrs Pohatu says the support from Te Puni Kōkiri helped to mainstream wahakura.
"It is an example of Te Puni Kōkiri being brave enough to go out there and support our traditions."
As well as reducing the rate of Māori SUDI, Mrs Pohatu believes the wahakura could open the floodgates for māmā to reconnect with Māoritanga.
"For young Māori mama now, who do not have a lot of support, the symbolism of receiving a wahakura could be quite profound."
When master weaver Whaipooti Hitchiner died in 2013, she left a box of what remained of the Nukutere Weavers' Collective to Mrs Pohatu.
It included a carving that represents the origins of the wahakura, which was hung on the wall of the new Gisborne office when it opened in July.