Te Puni Kōkiri and partner Height Project Management were announced winners at the Building Nations 2050 Impact Awards this week for our successful Māori Business Capability Uplift Programme.
Published: Thursday, 24 November 2022 | Rāpare, 24 Whiringa ā-rangi, 2022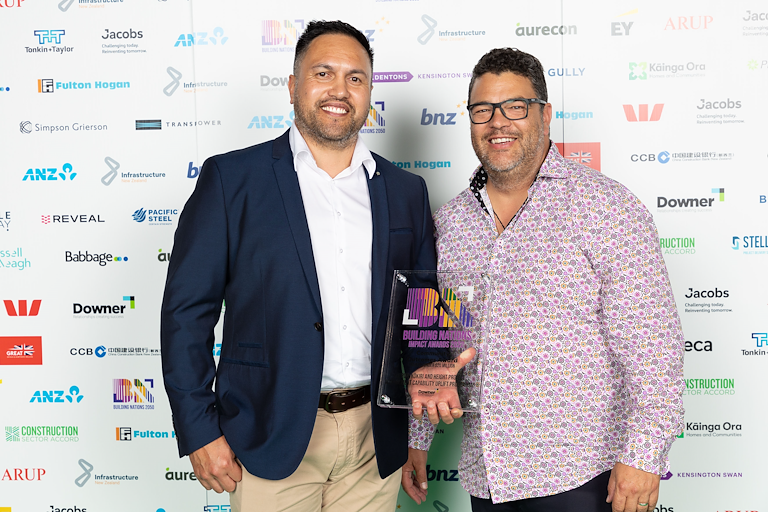 The Progressive Procurement Capability Uplift Programme provides targeted support for Māori businesses to improve their capability to help secure and deliver government contracts.
Our programme took home the Community Outcomes Award at the event, sponsored by Downer New Zealand, for projects Under $20 Million.
Height has worked with over 30 Māori businesses so far to mentor and tautoko their journey in navigating government procurement. Many of these businesses have since secured government contracts to a total value of over $8 million.
"We're very excited to be recognised through this award. The Progressive Procurement kaupapa we lead with Ministry of Business, Innovation and Employment is helping Māori business grow their skills and have the tools they need to participate in government procurement."
"There's nothing more rewarding than seeing these Māori businesses thrive through a bit of awhi," says Kellee Koia, Te Kupenga Hao Pāuaua Progressive Procurement Project Lead.
The Awards celebrated those projects, individuals and teams which have exemplified climate consciousness and a focus on social outcomes. The other winners were Fonterra, Link Alliance and Build Environs.
Image caption: Beaufa Brown, Programme Manager, Height Project Management and Warner Cowin, CEO, Height Project Management. Photo credit: Infrastructure New Zealand.