Last year, Vicki and Dean Wall bought their first home in Ōpunake, a whare they had been renting for the past 13 years.
Published: Monday, 31 January 2022 | Rāhina, 31 Kohitātea, 2022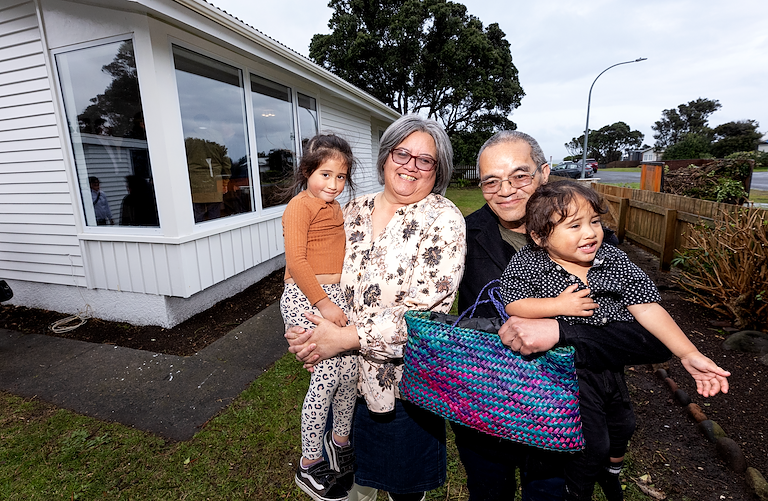 Vicki worked in the office at the local high school so the whānau was offered the schoolhouse to rent.
"There has always been this feel about this place, we just love it," Vicki said.
The couple's journey to home ownership started when they registered with their iwi, Taranaki, and began learning financial tools through Ka Uruora, a collective between Taranaki and Te Atiawa iwi.
Vicki and Dean signed up for the Sorted Kāinga Ora programme and figured out they were in a position to buy a home, utilising Ka Uruora's shared equity model.
Sorted Kāinga Ora is a programme developed by Te Puni Kōkiri and Te Ara Ahunga Ora (formally the Commission for Financial Capability) that helps build the financial capability of whānau so they can work towards achieving their housing aspirations.
"It was the best thing we ever did," Vicki said.
During the course Vicki said the couple were known as the "ice cream couple".
"We had got into the habit of buying a Memphis Meltdown every night. It wasn't until we wrote everything down that we realised how much money we were spending on ice creams."
Vicki said the couple had spent years "living the rich man's life" but soon discovered they could live off one of their incomes and save the other.
"So that's what we've done, and we've been able to save thousands of dollars for a deposit without feeling like we're missing out on anything."
Ka Uruora and the Housing Foundation supported the couple through the process of getting a mortgage through TSB Bank and setting up the shared equity arrangement.
The Walls were able to purchase 90 percent of the property and Ka Uruora covered the remaining 10 percent as an equity contribution.
"So, we're going to save hard and in two years' time we should have enough equity to go back to the bank and renegotiate the mortgage and pay Ka Uruora back."
Vicki and Dean were also lucky enough to have their then rental home renovated through Ka Uruora before they took over ownership in August this year.
The whare was painted throughout, had double glazed windows installed, a new bathroom, new kitchen cabinetry and the section outside tidied up.
"It feels amazing," Vicki said.
"We can really lay down our roots and do the things we've always wanted to, like put in a veggie garden."
Ka Uruora was a part of Te Ara Mauwhare: Pathways to Home Ownership, a set of trial by Te Puni Kōkiri. Te Ara Mauwhare looked to address the low rate of home ownership by Māori, by testing variations of progressive home ownership – shared equity and rent-to-own.The lessons from Te Ara Mauwhare are now reflected in the Progressive Home Ownership fund, available through Te Tūāpapa Kura Kāinga.