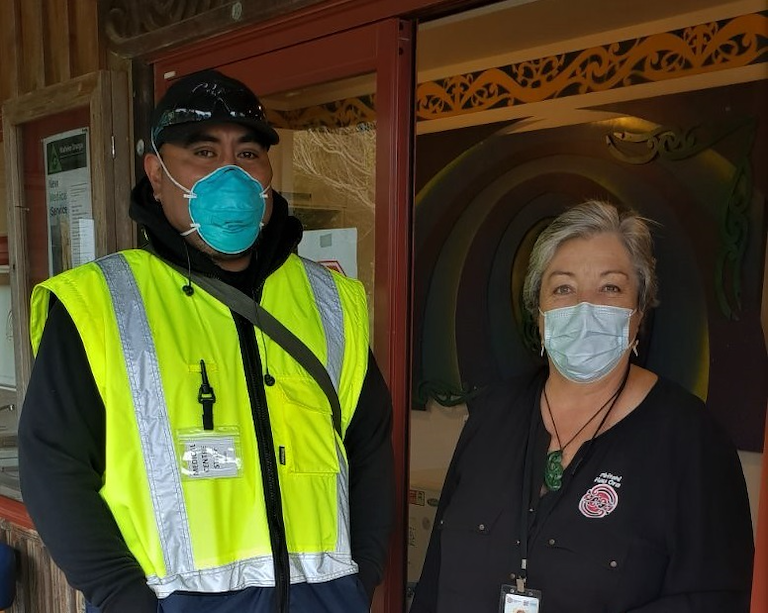 "They were stuck on the island with nowhere to live. Either the owners wanted their holiday homes back without notice, or they couldn't stay where they were because of relationship problems or it was the end of a tenancy," says Judy Davis, the General Manager of the primary health care clinic.
The clinic's kaimahi are supporting them to live where they can. Some are in tents, bivvies, on boats or even under boats – choices a few have made themselves.
"We're rural here so it's not all that unusual. But we're making sure that where they're choosing is waterproof, they've got water, and can keep themselves clean," says Judy. 
With the closure of most public facilites, Judy contacted the Auckland City Council to open a few public toilets and has distributed some solar showers and tarps as well as hygiene products.
Piritahi Hau Ora, with its doctors, nurses and social workers, is one of a network of marae-based organisations across Tāmaki Makaurau that is helping Te Puni Kōkiri activate its COVID-19 response in the rohe.
"We link with them to understand where the inequities are," says Te Puni Kōkiri Senior Advisor Eruera Morgan. "We have pockets of (COVID-19 – driven) deprivation all over Auckland. We also have heroes like Judy  in our community."  
Despite Aotearoa being in the 'recovery room' of Level 3, an unusual quiet envelopes the Waiheke Island community. The hundreds of visitors who arrive from Auckland by ferry every day have dwindled to a handful of residents coming and going.
That has brought benefits for the bird life and state of the beaches. As Judy's moko says "Papatūānuku likes this time because she's being looked after". There's also the inevitable downside – more alcohol, drugs and family tension.
"Our counsellors working remotely report some people drinking heavily. So we're figuring out how to effectively engage with them, how to get them thinking about alternatives to alcohol, and putting safety plans in place," says Judy.
As the weeks rolls on, parents and tamariki have sometimes been hard-pressed to occupy themselves. Judy and the team grabbed the opportunity to start up small positive parenting Zoom groups in the first week of the lockdown.
There've been some surprising results. After lots of initial anxiety about the virus and restrictions, some parents are enjoying 'reconnecting' with their children.
"One woman told the group 'I've now realised how grown up my 9-year-old is. I feel like I've missed a lot of time. We've talked past one another for so long'. Over time there's been more talk about the positives and understanding about why we're doing this."
Over time, too, the parents have taken over more of the kōrero, helping each other understand why it is important to keep not only themselves and their tamariki, but also their kaumātua, safe and connected.
Judy has noticed that confidence is now pushing anxiety aside. It has helped that no COVID-19 has been detected on the island.
"They feel confident about the way it's been managed. They're really pleased and happy they live in Aotearoa and not anywhere else. They're all tuned in to the latest news updates and are proud of Aotearoa's response."
Even with the loosening of restrictions during Level 3, Piritahi Hau Ora is not taking anything for granted and will continue to offer the same services. As Judy puts it, "we go as fast as our slowest runner".
Bringing groups together as needed, staying in touch with those living rough, encouraging healthy behaviour are at the very core of the clinic's ongoing work.
"Māori have a strong sense of resilience. We pull together as communities at these times of adversity," says Eruera Morgan. "We're lucky to have Judy there. You need people like her,  they activate!"
Photo: Kaimahi, Danz Kitiona, and General Manager, Judy Davis, ready to receive a whānau with a sick baby at the Piritahi Hau Ora marae based Primary Health Care clinic on Waiheke Island.