Whenua Māori near Whāingaroa (Raglan) that has been sitting idle for decades will soon be home to local Waikato whānau and bring those from afar who are yet to experience living on their ancestral whenua.
Published: Thursday, 16 September 2021 | Rāpare, 16 Mahuru, 2021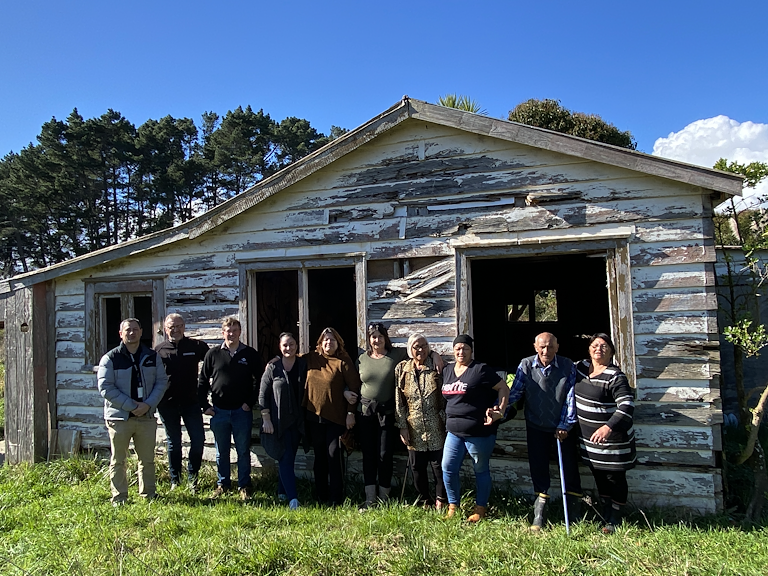 Dozens of whānau from the Rākaunui 1B Ahuwhenua Trust gathered last Friday to bless the whenua and mark construction of their papakāinga that has been more than fifteen years in the making.
The turning of the sod event was scheduled to take place last month, however the latest lockdown put plans on hold. But as soon as restrictions eased in Waikato, whānau swung back into action.
Monika Newton- Karekare, chair of the Trust, said it was a day filled with wairua, aroha and whakawhanaungatanga.
"There was a real buzz on site within the whānau and wider whānau, knowing that this land was going to bring tangata whenua back.
"Our ahi kaa were there to tautoko us as were whānau excited to also be on this journey," Monika said.
Te Puni Kōkiri invested $3.2 million into the project that will support the infrastructure for 22 home sites including both collectively owned affordable rental homes and whānau owned homes, and a communal area connecting the papakāinga to the marae. Building would commence on four rentals and four homeownership whare this year.
Housing had become unaffordable in Whāingaroa for tangata whenua making it difficult for whānau to remain on or near their ancestral lands. The papakāinga would make an essential contribution to housing supply for whānau who would otherwise be priced out of their community.
On Friday, the weather forecast was for heavy rain and wind, but the skies held long enough for the matakite and kaikarakia site visit to take place in the morning, followed by the turning of the sod at 12 noon.
"The heavy rain arrived through the night as we snuggled warm and dry together at the local Kōkiri Centre," Monika said.
"We welcomed the rain and the soothing sound on the roof, our tūpuna were crying tears of joy, well that was our whakaaro anyhow."