Tucked away in a quiet cul-de-sac in Waipatu Hawkes Bay, the Apatu-Wilson whānau are happy and safe spending lockdown in their whare that lies within their whānau papakāinga.
Published: Friday, 3 September 2021 | Rāmere, 03 Mahuru, 2021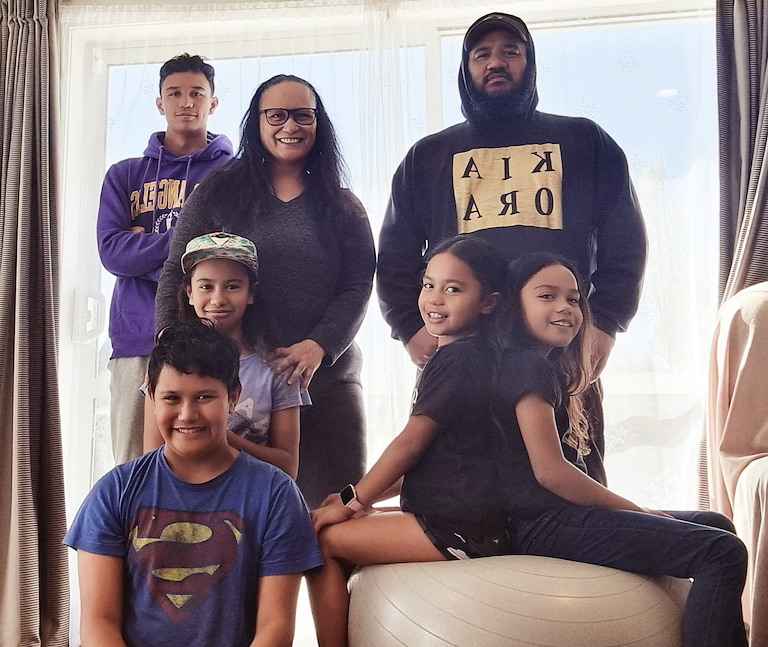 The family of seven includes māmā Mareina, pāpā Quentin and tamariki Hunta, Kiri Maia, Portlin, Taler and Zaydn, all aged 8-15.
This isn't their first lockdown living in the eight-home Aorangi Māori Trust Board papakāinga, as the whānau moved into their rented whare in 2016.
Stage one of the papakāinga, where Mareina and her whānau live, was initially supported through the Social Housing Unit at the Ministry of Business, Innovation and Employment (MBIE). Te Puni Kōkiri assumed responsibility for Māori housing funding from MBIE in 2015 and has supported the development of the papakāinga since then. Te Puni Kōkiri supported $40,250 towards the planning and feasibility for stage two, and a contribution of $2.28 million towards the 12 whare papakāinga – six rental homes and six homes for whānau ownership.
Mareina says her whānau are doing well in their bubble but understand the heightened risk Aotearoa faces with the current outbreak being the Delta variant.
"There are eight homes in our papakāinga and we all share a backyard and have tamariki, so our tamariki know they have to wait their turn if someone from another whare is outside playing," she says.
Although each whare keeps to their own bubble, the benefits of living in a papakāinga are amplified during lockdown.
"There's something special about knowing you have whānau all around you.
"The aunties and uncles check up on our kaumātua, and everyone checks in on each other from a distance."
The support structure a papakāinga provides was even more evident last lockdown when the community lost a loved one.
"Everyone prepared kai in their own homes and contributed it to the whānau, so they didn't have to worry about kai at that time," Mareina says.
When they were able to, different households shared home-cooked breads, veges and fruit with each other which continued on well after the lockdown.
"We're managing our routine lot better this time around and we don't have any worries about running out of supplies," Mareina says.
Papakāinga living has many benefits for whānau, one of the biggest ones is knowing her whānau is safe and happy.
"My tamariki are having fun and being happy, that's the main thing."
Photo: The Apatu-Wilson whānau at home in Waipatu. Back: Hunta (15), Mareina and Quentin. Front: Kiri Maia (10), twins Portlin and Taler (8) and Zaydn (almost 12).