"Visualise the weaving of harakeke, noting fine threads by themselves break easily, but when bound together they are impossible to break"
Published: Thursday, 1 December 2022 | Rāpare, 01 Hakihea, 2022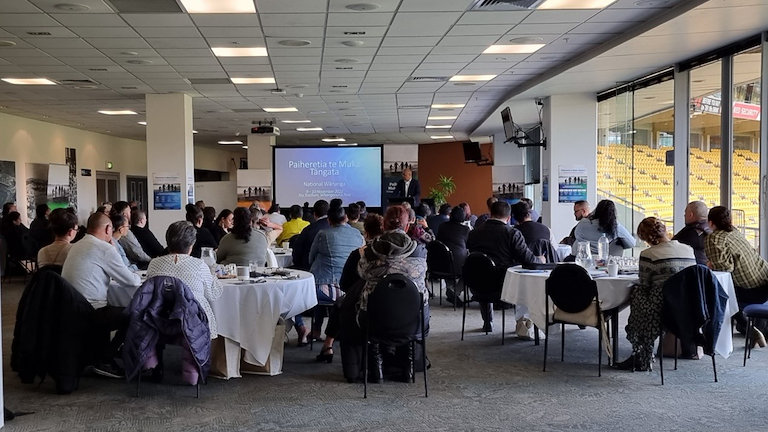 Held at the Sky Stadium, the wānanga was attended by Kaiarataki navigators from the Māori service providers in Hawke's Bay and Northland that deliver Paiheretia in their regions, Ngāti Kahungunu Iwi, as well as Ara Poutama Aotearoa (Department of Corrections), Te Puni Kōkiri and Ministry of Social Development kaimahi.
Whānau Ora Minister Peeni Henare said his focus was to build the Paiheretia whare with strong foundations and in a village so its mahi connects with health, housing and other Māori-focused initiatives and are sustainable.
A whānau advocate shared his life story and said he hoped everyone in the room would be out of work in 10 years, which would mean their efforts would be a success.
Among the sessions, kaimahi from providers shared first-hand how they support whānau and tāne experiencing the prison system to refocus their lives.
Prison rights champion Tā Kim Workman reflected on a lifetime of working to humanise prisons and support whānau.
Secretary for Māori Development Dave Samuels introduced Tā Kim by saying he had mentored him when he was transitioning from his Army career into the Public Service.
Dave said Paiheretia was an example of parties coming together to help change the systems across government from a focus on individuals to that of whānau and the collective.
He noted this had been evident with the community and Māori collective work on COVID-19 vaccination and resilience efforts and was also being seen through programmes such as Ngā Tini Whetū.
These reflected a whānau-centred approach, delivered by communities and in partnership. "The Public Services needs to let go and let the community do it."
Hautū Regional Partnerships and Operations Paula Rawiri said she hoped those attending could use the opportunity to refresh and reset.
She said when she thought of Paiheretia te Muka Tāngata as a kaupapa, that the muka came foremost to her mind. She visualised the weaving of harakeke, noting fine threads by themselves break easily, but when bound together they are impossible to break.
Paiheretia te Muka Tāngata – Uniting the Threads of Whānau is a Whānau Ora kaupapa to improve outcomes for whānau involved in the Corrections system and is also part of the wider Ara Poutama Aotearoa – Māori Pathways initiative responding to the disproportionate over-representation of Māori.
The focus of the wānanga was to strengthen relationships and networks, share best practice and experiences, and embed whānau ora and whānau centred approaches across Ara Poutama Aotearoa. Attendees also learned ways to promote wellbeing and hauora.
Watch the video below to learn more about Paiheretia te Muka Tāngata and recent mahi in partnership with Ngāti Kahungunu.