Recent Anzac Day commemorations rang home a few home truths for me this year. I spent the day in Uawa-Tolaga Bay. The East Coast community hosted a programme which valued acts of peace on a day felt by veterans and their families, long after the wars.
Published: Monday, 11 May 2015 | Rāhina, 11 Haratua, 2015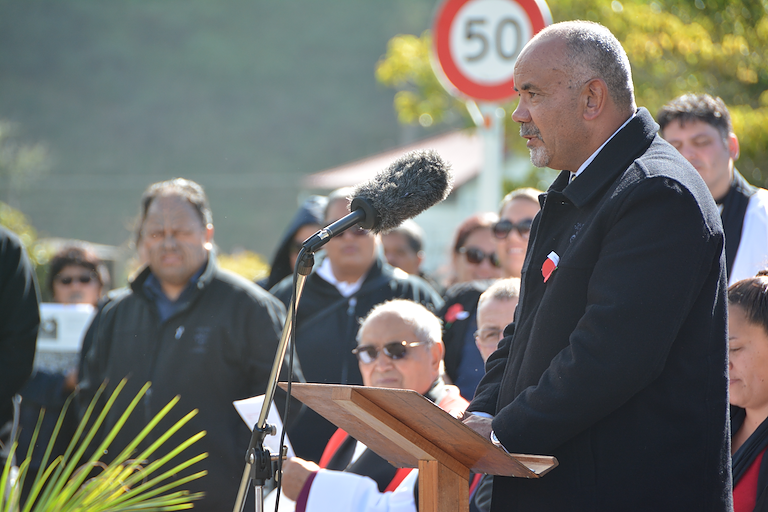 Around the world, and in cities and towns all over Aotearoa New Zealand, whole communities spent time in quiet contemplation, thinking about the men we lost at war – and the men who returned home changed by what they experienced.
At the civic ceremony for Te Tairāwhiti, hosted by Uawa-Tolaga Bay and Te Aitanga a Hauiti, I heard six-year-old Gemma Hall-Saywell deliver her speech to around the 800 guests about the 'silliness of war': 'because lives are lost, taonga are destroyed, and mothers are made sad'. 
I also saw the proud whānau of Toi Karini receive his replacement certificate for his Croix de Guerre; and with the whānau of Robert Walker, both men received the gratitude of the city of Arras from the honorary French Consul, for their roles building tunnels at the Western Front.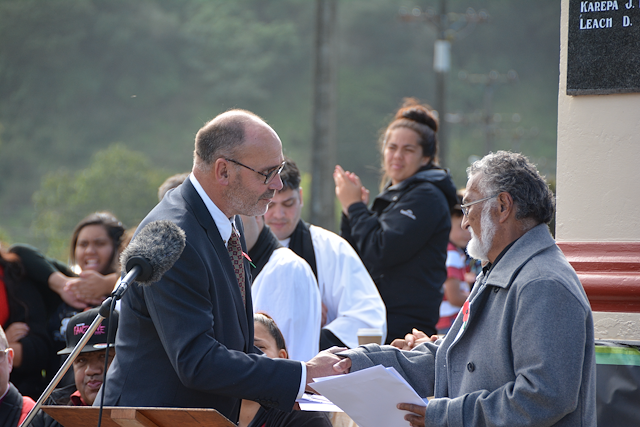 At the refurbished Memorial Gates, we unveiled the names of servicemen who returned from their engagements overseas, in places like Borneo, Vietnam (etc). It must be the first example I have seen, of a war memorial naming their surviving men alongside those who were Killed or Missing in Action.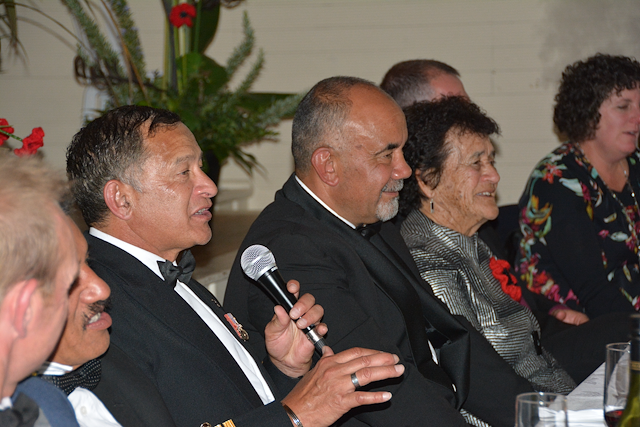 At the Captain's Mess dinner I attended that evening, as key note speaker, I talked about my role as a White Ribbon ambassador. I reflected on part of my day's experience: we had marked the end of domestic violence with the burial of a capsule – an act which was named 'Te Tohu Whakamoe Patu'.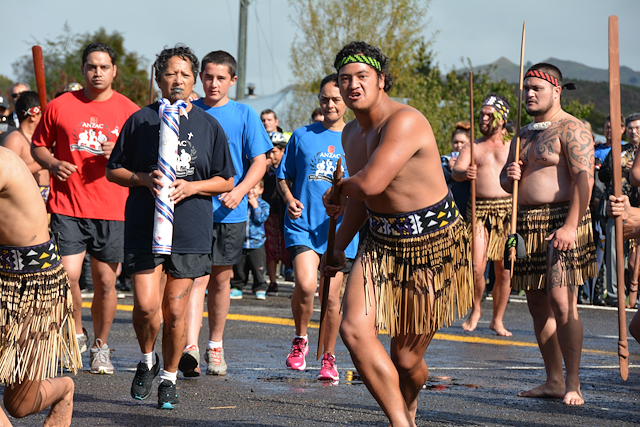 It was a symbolic representation of the Hauiti community's opposition to domestic violence. There is evidence that domestic violence existed and continues to exist within whānau as a direct result of tipuna involvement in the war.
Up to 50 Te Aitanga a Hauiti recruits left for World War Two as boys and young men, and They returned as aged veterans with wounds both seen and unseen. Resettling into community and whānau life was difficult for most. For a select proportion, the whole experience of war altered their views of life completely.
I wholeheartedly support the aspirations of whānau in Uawa Tolaga Bay, Te Aitanga a Hauiti and Ngāti Porou. As a White Ribbon Ambassador I believe that men want to be proud fathers, uncles, grandfathers and great husbands and partners. We want our tamariki and mokopuna to live in safe homes. We want our men to be part of the solution. This is one example of many whānau, hapū and iwi around the motu working to the same ends.
I also offer my congratulations to the recipients of the 28 Māori Battalion and Ngarimu VC scholarships. Though I could not be there, I am very proud of the legacy that lives in our tamariki and mokopuna – our tipuna who fought in every war, both here at home and in places overseas, including Vietnam, Korea, the South African ('Boer') War, as well as Gallipoli and the Balkans – that they be proud of what you have done out of their sacrifices. 
This week the last of three field days for the Ahuwhenua Trophy finalist farms was held and I look forward to attending the awards dinner in Wanganui at the end of this month. Māori success in education and agribusiness prove that truly we are living in the realm of Rongomaitāne.
Ngā manaakitanga,
Hon Te Ururoa Flavell
Minita Whanaketanga Māori (Minister for Māori Development), Te Minita Whānau Ora (Minister for Whānau Ora).