When Taika Waititi took home an Oscar at this year's Academy Awards, indigenous storytellers came under the global spotlight. The owner of a Māori creative agency wants to sustain that focus, by supporting other 'creative natives' to tell their stories to the world. He has found a way to do that through the Te Puni Kōkiri Cadetships programme.
Published: Wednesday, 16 September 2020 | Rāapa, 16 Mahuru, 2020
James Rua (Ngāti Whātua/Ngāi Tahu) is co-founder and company director of The Hood & Co, a visual content and digital marketing company. The Auckland-based agency counts Air NZ, ASB Bank and Spark among its corporate clients. Recently it has broadened its client base to include more Māori and Pacific businesses.
"More of our jobs are telling indigenous stories through video and photography. So, we're now on the lookout for more Māori directors, editors and script writers to be part of our team."
James turned to Te Puni Kōkiri for help. Working closely with Te Puni Kōkiri advisors he submitted an application for the Cadetships programme and was successful. Cadetships support employers in a wide range of industries to mentor, develop and train Māori staff of all ages so they can take on more senior roles, extend their career paths and boost workforce development.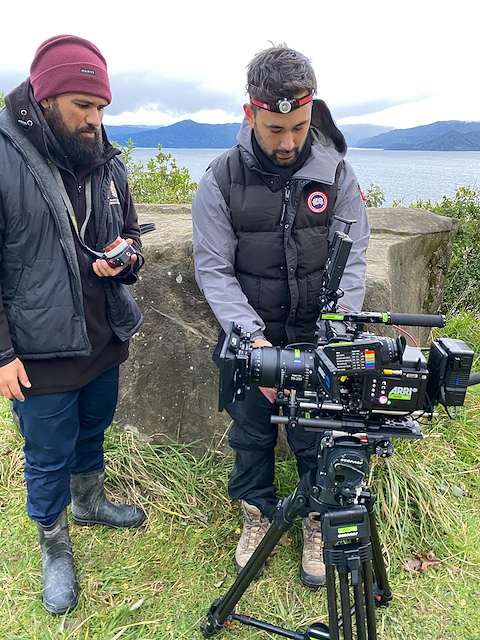 First-hand learning
The Cadetships programme was perfect timing for Te Haunui Tuna (Ngāi Tūhoe) who started with The Hood & Co in July 2020, by working on a video campaign for a government department and Ngāi Tūhoe.
A requirement of the contract was that the company take on an aspiring Māori creative from Te Urewera and Tūhoe region, to gain work experience in the field of video production.
Te Haunui, a tā moko and visual artist in Whakatāne, came on board to pursue his dream of becoming a filmmaker - an arrangement that led on to his cadetship five weeks later.
James and the crew were impressed with his work ethic and ability to quickly learn new skills.
"From start to finish Te Haunui was learning first-hand. He would think one step ahead and be there when needed to help out other team members. His local knowledge of the area was also very useful, helping us to bridge relationships with the iwi and source talent," says James.
Midway through the shoot James started to think about how they could help Te Haunui continue his development, once the project was finished. That is when he looked into Te Puni Kōkiri Cadetships.
Te Haunui, too, was ready for the next step. Over the last three years he had been exploring different forms of digital story-telling, including animations, podcasts and vlogging. The experience on the project cemented his ambition.
Now that his cadetship is underway he has already got stuck in under James' guidance with creating new digital content, developing scripts, interviewing, post-production and learning how to take on customer feedback.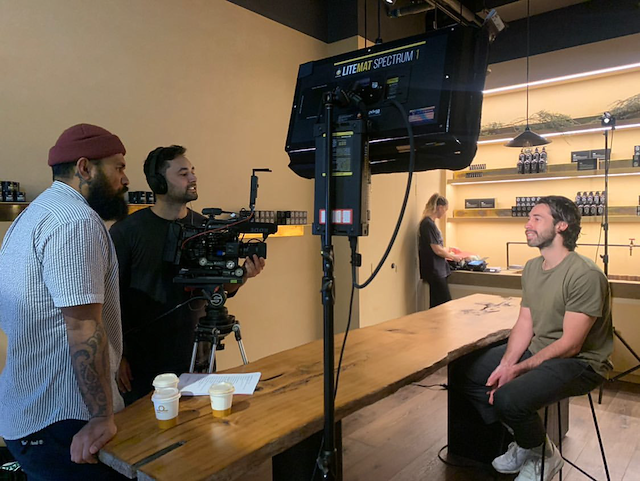 Risk paying off
Although the six-month cadetship programme is in its early days, both The Hood & Co and Te Haunui are already benefiting.
"We're pretty blown away by how much he has learnt and contributed to our company in such a short amount of time. Taking on board a new employee straight after lockdown required us to take a leap of faith to continue growth in our company."
"It was a risk that's already paying off. I think we've found a bit of a gem in Te Haunui."
Te Haunui says he is grateful for the opportunity.
"The whole experience so far has been amazing! I'm learning heaps and James and the crew are really open and receptive to questions I have about the film making process. I learn best when being around experienced people and James is exactly that. He's done it all."
Fostering new Māori talent
The company wants to keep fostering new Māori talent into the film industry. James says The Hood & Co could provide a platform for creative individuals like Te Haunui to develop their skills, as well as a  gateway for new connections and opportunities. Already Te Haunui has been offered work on a feature film this summer, as a result of the professional contacts he made on the Te Urewera shoot.
"There definitely needs to be more Māori creatives in the industry, but it's hard to get your foot in the door, especially if you're up and coming," says James.
Cadetships can open that door.
Their first experience with the Te Puni Kōkiri Cadetships programme has inspired the company to reach even further. James would like to facilitate a network for Māori creatives to get their projects off the ground and expand the team with remote satellite offices.
Driven to learn and deliver
The next phase of the cadetship journey for Te Haunui will see him working with James on a documentary. The film forms part of an interactive exhibition led by designer Kiri Nathan.
James has no doubt Te Haunui will one day achieve his long-term goal of writing and directing his own film.
"Te Haunui is driven to learn and is really curious. He watches and observes what's going on, and then he delivers."
In the meantime, Te Haunui is happy to be on his way.
"Cinema is a realm where I can be forever learning, and forever be a student. Being able to tell stories that mean something to me, to our country and to our Māori people, that really excites me."
Te Puni Kōkiri has delivered the Cadetship programme since 2010. In the Wellbeing Budget 2020 Cadetships received $22.7 million to expand from 500 to 1200 placements, including re-training those
from industries adversely affected by COVID-19. Te Puni Kōkiri Cadetships support employers to develop, mentor and train new or existing Māori staff so they can take on more senior roles and grow as leaders, while strengthening the business and industry they work in.
To find out more about the Cadetship programme contact one of the Te Puni Kōkiri regional offices.
Top image: Te Haunui Tuna (left), in the editing suite with James Rua (in foreground), co-founder and company director of The Hood & Co.  The cadetship opportunity has enabled Te Haunui to further develop his editing and post-production skills. Photo courtesy of The Hood & Co.