The brave, the selfless and the safety-conscious received Safety in the City Awards from the Wellington City Council for their contribution to keeping Wellington safe including the Ngāti Toa Māori Wardens.
Published: Wednesday, 16 December 2015 | Rāapa, 16 Hakihea, 2015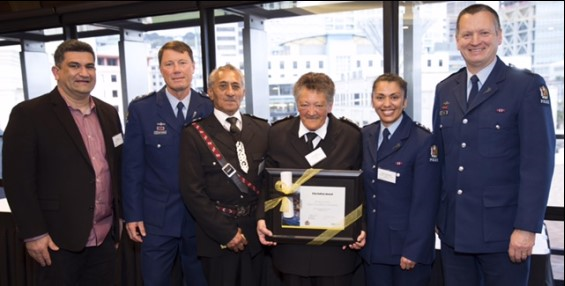 One of the winners of the 11 awards was the Ngāti Toa Māori Wardens for their hard work and continued service to the community.
Acting Mayor, Justin Lester and Police Operations Commander, Inspector Terry Van Dillen presented the Award to the Māori Wardens at a ceremony held in Wellington.
Councilor Lester said Wellington was the only Capital in the world to be designated an International Safe Community by the World Health Organisation.
"The winners that were honoured have helped uphold our Safe Community designation," he said. "Their contribution is greatly appreciated."
Councillor Eagle says volunteers and people who look out for their neighbours are the backbone of the Wellington community.
"I sincerely thank all of the winners and nominees for their work in keeping Wellington safe."
Heniaka (Hēni) and Mike August of the Ngāti Toa branch accepted the Award.