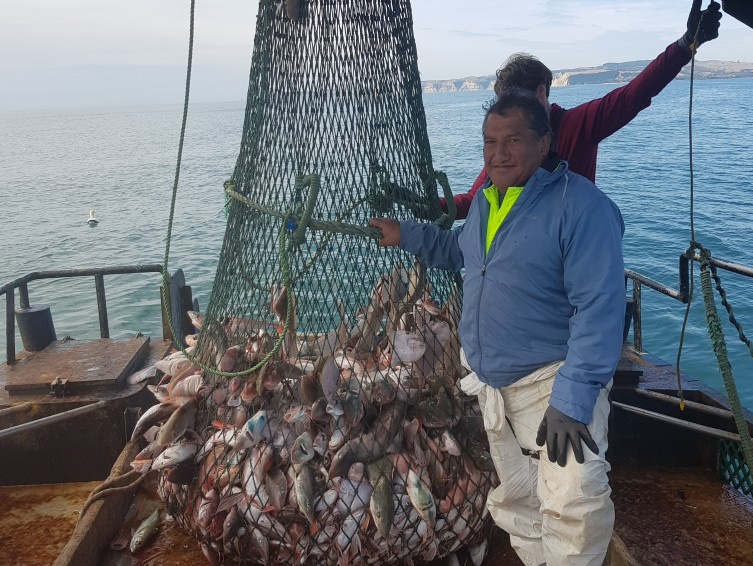 One example is an arrangement between Te Puni Kōkiri, and Ngāti Kahunungu Iwi Incorporated (NKII); which has since morphed into a major co-operative effort including regional Taiwhenua of Ngāti Kahungunu, hapū groups, Māori non-government organisations (NGOs), the Hawkes Bay District Health Board (DHB), private companies in Hawkes Bay and local councils.
It began with a grant from the Government through Te Puni Kōkiri of $100,000 to NKII, to help whānau Māori in the region. The NKII looks after whānau from Wairoa in the north through to Wairarapa in the south. An area with about 50,000 Māori.
NKII responded by kicking in $200,000 of its own funds. This combined initial pūtea was used to establish infrastructure and hubs to receive and distribute food and hygiene packs for people in need. The hubs were established in places identified as having the greatest need including Flaxmere, Maraenui and Wairoa district. They are manned by Taiwhenua, NGOs and hapū members, who repack bulk supplies into whānau lots which are then delivered by volunteers.
The DHB joined in with supplies of sanitation kits including gloves, masks and sanitiser; it's also set up COVID-19 testing stations and places where people can get a flu jab.
Casting the net
The longstanding Chair of Ngāti Kahungunu Iwi Incorporated, Ngahiwi Tomoana is well known throughout the region with many contacts in all sectors of the community: iwi/Māori, businesses, government, local government, Māori and Pākehā; and it's contacts like these forged in 'normal' times that have come in handy in a crisis.
He's a pocket battleship and bundle of energy at the calmest of times, but with the threats posed by COVID-19, and in the interests of the welfare of our people, he and his crew have stepped up several notches.
Allies in peace-time have stepped forward too, to help in the battle against COVID-19. Fruit and vegetable growers – Māori and Pākehā -  have made their produce available, trucking companies have laid on transport.  NKII has despatched a fishing boat from its fishing company, to sea, to catch fish to be added to food parcels for pakeke and the needy. Fish fillets have been delivered to Ngāti Kahungungu taurahere whānau as far north as Hamilton and south to Wellington. Deals have been negotiated with supermarkets for people with special needs to get discounts on their purchases; all of these contributions have greatly leveraged up the original pūtea.
Ngahiwi says they have come across whānau from the Pacific Islands who are in need and have included them in food deliveries too. Pasifika whānau and seasonal workers who pick fruit and harvest veges in Hawkes Bay who are still here, have pitched in to help with the mammoth operation too.
Rebuilding the economy and job opportunities
Many of the people being helped have lost their jobs because of the virus and the subsequent lockdown. But other elements of the Hawkes Bay economy are booming, according to Ngahiwi. He cites exports of crayfish and timber and fruit and veges, and meat. But he also knows that some jobs may never come back, or not in the way and with the numbers of people they used to employ, and so while setting up infrastructure to meet immediate needs, he's also refocussing on the future.
Never short of a thought, he's set sights on a couple of projects and has been lobbying people hard to try and progress them.
He's identified a shortfall of several thousand urgently needed houses in the rohe, and wants a new trade training scheme set up to overcome the shortage of trades people needed to build about 200 houses a year, to help alleviate that and to get young people into meaningful work and a worthwhile future.
But he wants a new approach to trade training, not the full on three year training, but rather shorter more specific courses like 'roofing' or 'tiling', lasting say six months allowing students to 'earn as they learn' and come away with a very marketable skill and qualification; should they wish to they can undertake further training later, in other aspects of the 'trade' to further enhance their skills.
New ways of working together
In the past governments - local and central -  and Māori have often found themselves on opposite sides of the table debating one issue or another. But today COVID-19 is the common enemy and many groups often at odds in 'normal' times have found themselves working together, and sometimes finding that 'once this is over', there are other projects that they might co-operate on.
The society reset that COVID-19 is causing, is forcing us to rethink the way in which we carry out all manner of things, even work itself. Ngahiwi says he's participating in discussions ranging through the future of a meat works employing a high number of Māori, the establishment of a new horticultural hub, trade training and how we finance new ventures – maybe with the help of overseas bankers Māori already have contact with.
Te Puni Kōkiri Regional Manager for Ikaroa-Rāwhiti, Mere Pohatu says, "What has been very pleasing to see is that a relatively small grant of $100,000 has helped this fantastic group of organisations and individuals fulfil their desire to help people less fortunate than themselves in our rohe.
"Their contributions have eased the lives of thousands through this very difficult time. I have noticed that some of these groups are starting to link up to see what they can cooperate on in the future, which has been a real bonus to come out of this."