Te Puni Kōkiri has partnered with the New Zealand Defence Force (NZDF) and Te Kawa Mataaho Public Service Commission to deliver the first Ngā Ara Whakatupuranga- New Frontiers programme, a pathway to get NZDF Māori leaders into public sector roles.
Published: Friday, 6 August 2021 | Rāmere, 06 Hereturikōkā, 2021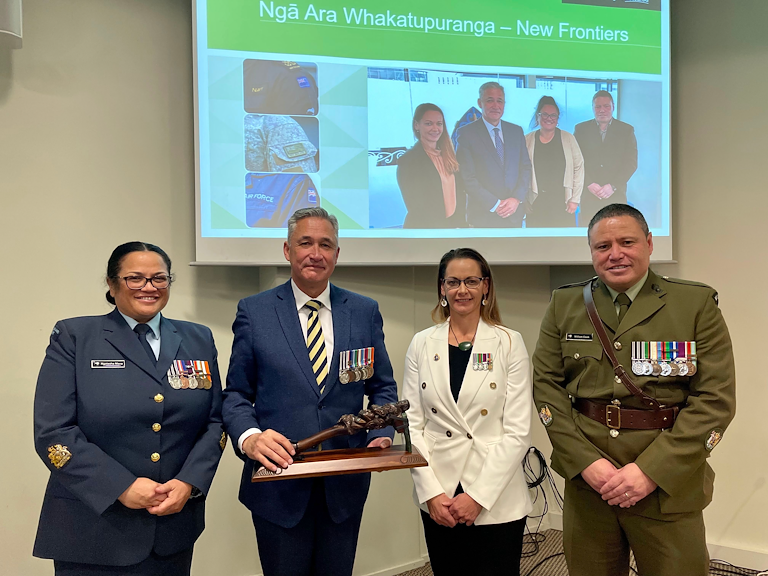 Secretary for Māori Development, Dave Samuels, says the intention of the initiative is to make public service a viable career path for leaders leaving the Defence Force.
"Within the Defence Force there are many successful Māori leaders who are looking to move into new careers. They are great communicators who can effectively manage priorities, build relationships, and develop teams.
"Public agencies could benefit from the transferable leadership and management skills they have," said Dave Samuels.
In December 2020, Te Kawa Mataaho published workforce statistics covering 36 public service departments. The report found that Māori were under-represented in the top three tiers of Public Service management, holding 12.4 percent of these leadership roles.
Dave says separate to that, wellbeing indicators show continued inequities between Māori and other New Zealanders. "One path for addressing this, is to have more leaders who have the cultural capability and connections into Māori communities."
Ngatasha Mana (RNZAF), Dawn Boxer and Billy Cook (NZ Army) participated in the six-month programme, which ran from February through to August 2021.
The programme kick-started with an induction into the public service and better understand the machinery of government.  The development support also included areas of financial management and information technology. Each participant was then assigned regional Te Puni Kokiri and another government agency placements.
"Ultimately, whānau win because there will be more Māori representing them in the decision making and policy making environments that directly impact on their daily lives," said Dawn Boxer.
Billy Cook says the experience has been a 'career highlight', allowing him to work across lots of different kaupapa across the motu.
"This has made me appreciate the NZDF and everything it has done for me. We have a lot to offer the public sector that comes from our lived experiences," says Billy.
The participants have evaluated the pilot for future Ngā Ara Whakatupuranga cohorts and have presented their recommendations to the Programme Governance Board.