Strengthening rangatahi wellbeing, resilience and confidence through tikanga and cultural identity was demonstrated in Shannon recently, when famous artist Mr G, came to town.
Published: Friday, 8 September 2023 | Rāmere, 08 Mahuru, 2023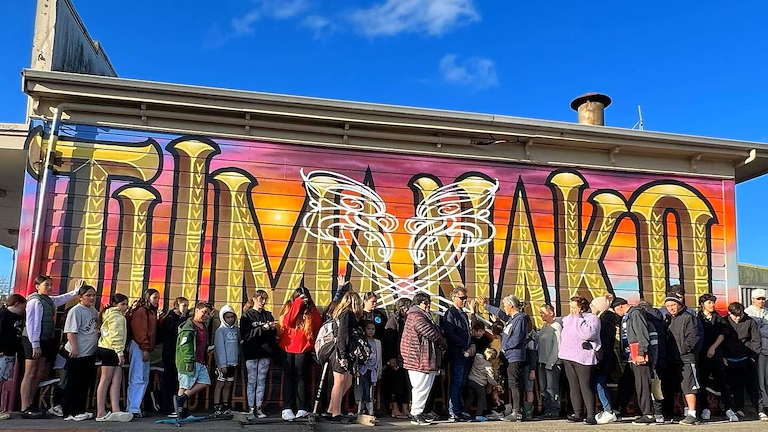 Some of Shannon's future leaders, our rangatahi of today, have left an indelible mark in Shannon, with their inspired creation of Tūmanako, a larger than life artwork, designed and crafted by Mr G, symbolising hope and inspiration.
In conceiving the artwork, rangatahi were asked what hope meant to them. The resulting mural weaves aspects of the rohe and local legends through the word tūmanako, which means to stand strong in your identity.
This is just one of the Rangatahi Manawaroa initiatives Mr G has been involved in over the years. A Te Puni Kōkiri programme, Rangatahi Manawaroa supports rangatahi to have positive experiences through te ao Māori expression.
Rangatahi have told us that a positive focus on wellbeing has the greatest impact for them in terms of building resilience. Working alongside famous Mr G surely rates up there for positive experiences. His works also include giant depictions of the late Prince, in Sydney and in the musician's hometown of Minnesota as well as Kiwi sports stars Stephen Adams and Joseph Parker.
Photo credit: Mr G.