Crowds of people attended a medal ceremony in honour of B Company of the 28th (Māori) Battalion at Te Papaiouru Marae in Rotorua on Saturday 3rd December 2022.
Published: Wednesday, 14 December 2022 | Rāapa, 14 Hakihea, 2022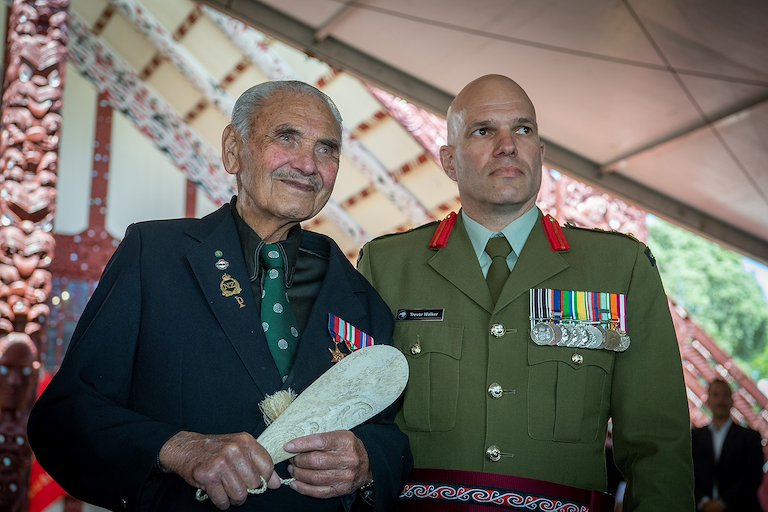 Whānau of 89 battalion soldiers were presented with the World War II service medals of their tipuna, the latest in a series of events to present medals not distributed after World War II. Former service personnel needed to apply for their medals to be sent to them, and so around 300 from B Company were not claimed until now.
The ceremony was attended by the last remaining member of the Battalion, Sir Robert 'Bom' Gillies, and Sir Willie Apiata VC. Minister for Veterans Meka Whaitiri presented the medals, along with Ministers Kelvin Davis, Willie Jackson and Kiritapu Allen and three senior New Zealand Army officers.
Another ceremony will be held on 17th December at Whirinaki Whare Taonga in Upper Hutt. Around 30 whānau will receive their tipuna medals. The soldiers of C Company trained at nearby Trentham Military Camp and were drawn from Ikaroa-Rāwhiti. It is also open to the public, with whānau registration starting at 9:00am and the pōwhiri starting at 10am. 
Photo credit: Tā Robert 'Bom' Gillies and TRADOC Commander Colonel Trevor Walker at the B Company ceremony in Rotorua on 3rd December. Photo credit: NZ Defence Force