During the weekend the Minister for Māori Development, Te Ururoa Flavell, and the Minister of Transport, Simon Bridges, flew into the Waiariki region with District Mayor Tony Bonne to assess the damage as a result of the devastation caused by ex-tropical cyclone Debbie.
Published: Tuesday, 11 April 2017 | Rātū, 11 Paengawhāwhā, 2017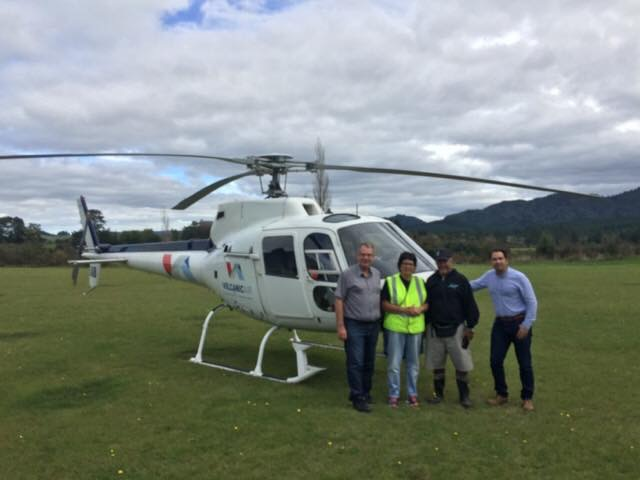 Sixteen hundred residents were evacuated after the Rangitaiki River burst its banks last Thursday April 6. The river rose to unprecedented levels due to a "one-in-500-year event". Severe rainfall flooded much of Edgecumbe as heavy rains drenched most of the North Island and parts of the South Island.
District mayor, Tony Bonne said yesterday he did not know when the rest of the town could go home. Requests were being dealt with on a "case by case" basis, he said.
Several rural Eastern Bay of Plenty settlements have also been isolated by floodwaters.
Bonne, Bridges and Flavell flew to some of the settlements, including Ngāpūtahi (Edgecumbe), Ruatāhuna, Te Whāiti and Minginui and talked to whānau who were affected by the flooding in the region.
Washed out roads could take "weeks to months" to fix and opening a forestry route was being considered, Bonne said.
Rachel Jones, Te Puni Kōkiri Regional Manager for Waikato-Waiariki says that the devastation can be seen across the region and that her office is looking at how they can support the region during this time.
"It's sad. You look at the flooded regions and you can see the devastation that is apparent. For some whānau you have the added anxiety of not knowing whether you can return back to your home. Whānau are still very aware that there could be more rain ahead – so we don't know if the worst is yet to come," she said.
"Despite this, I must say if there was a prize for selflessness I would give it to these communities. Despite their own plight they are still worried about other whānau who are still stranded and are trying to find ways that they can help each other – this is when you see true whakawhanaungatanga coming through."
The flood-zone is on alert for more rain as the week ahead threatens to be another washout. A Give a Little page has been set up in response to the flooding. The Mayoral Flood Appeal has been launched to support families and individuals through the recovery phase.