Minister for Māori Development, Hon Te Ururoa Flavell was thrilled to open the Te Uru Rangi last month, a scholarship to support Māori students entering the technology industry.
Published: Thursday, 17 September 2015 | Rāpare, 17 Mahuru, 2015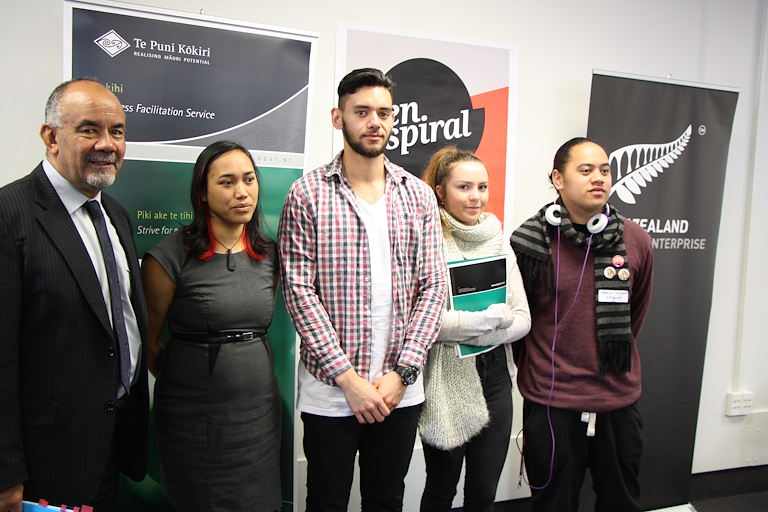 Te Uru Rangi, which means Stargate, a portal to the future, is a collaborative partnership between Enspiral Dev Academy, Te Puni Kōkiri, NZ Trade & Enterprise and Callaghan Innovation.
The scholarship is intended to lower barriers for young Māori to become web developers by helping students complete the Enspiral Dev Academy junior development course and find jobs in New Zealand's exciting technology sector.
"Our people don't know how to get into the technology sector, these scholarships are one way we can change that," Minister Flavell says. "I'm delighted we've been able to provide a contribution to this kaupapa."
The Minister urged the scholarship recipients to take the opportunity and make the most it with a challenge, and when they did have successful careers to remember to give back and provide the same support to the next wave of Māori tech and business leaders.
The Enspiral Dev Academy is a 9 week intensive, full immersion bootcamp where students learn by doing. They leave with all the fundamentals of software development needed to be employed as junior developers.
Rohan Wakefield, co-founder of Enspiral Dev Academy has been striving to create this opportunity for some time.
"We want to help train and support upcoming Māori tech and business leaders. Te Uru Rangi scholarships create a huge opportunity for more Māori to step into a thriving tech industry, and enter jobs that have high earning potential and value creativity, diversity and collaborative problem solving," says Rohan.
Kim, a Māori graduate from the first cohort of Enspiral students, is an avid advocate of the programme as she shared her story at the launch.
"After completing an information management degree at university, I found it really hard to find a job. After meeting Rohan from the Dev Academy, I signed up to the the very first 9 week programme. There were 19 people in our group," says Kim.
She goes onto share, "All they asked for were passionate people who wanted to enter the tech industry and I was hooked. All I've ever wanted was to work in the ICT industry. Not long after finishing with Dev Academy, I was picked up by Datacom, the largest company delivery ICT services and software to enterprises and government."
Ngāi Tahu has also seen the opportunity of a thriving tech industry, and have contributed $25,000 towards the Te Uru Rangi scholarships to support more Māori to move into this sector.
Ngāi Tahu representative Che Wilson notes that Māori have too often missed opportunities to be at the forefront of economic development and growth, and that investing in the tech industry is a move in the right direction.
"We're always creating scholarships for yesterday's job. This is an opportunity for a wind shift in our waka."
Che encourages other prominent Māori stakeholders to support the tech industry by funding the scholarships as well.
"I'm putting the challenge out there to other iwi, trusts and organisations to seriously look into investing into skill development in the ICT sector. This is just one way you can contribute," he says. "There's just so much opportunity in the rapidly growing tech industry for our whānau to do amazing work that's really valuable to people and bring positive outcomes for whānau. The Te Uru Rangi scholarships can help make this opportunity a reality for more Māori students."