Māori Development Minister Te Ururoa Flavell took part in a wreath laying ceremony at the War Memorial of Korea acknowledging sacrifices during the Korean War including those of New Zealanders who lost their lives in the conflict.
Published: Tuesday, 5 July 2016 | Rātū, 05 Hōngongoi, 2016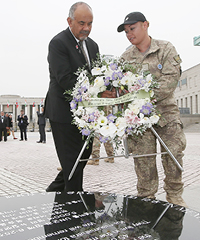 It is the first of several events included in a Ministerial Māori trade and culture mission to Korea led by Minister Flavell in late June.
Speaking at the wreath laying ceremony in Seoul, Minister Flavell says the memorial honours veterans and their fallen comrades, and is a symbol of the ties which bind New Zealand and the Republic of Korea.
"Through this Memorial we acknowledge our veterans deeds, and we commemorate the forty-five New Zealanders who never came home." 
 
"While compared with World Wars One and Two the losses we experienced in Korea were relatively few in number. Nonetheless each death represented a devastating blow to whānau back home."
Minister Flavell was joined at the ceremony by the South Korean Minister of Patriots and Veterans' Affairs Hon Park Sung-choon, New Zealand Ambassador to Korea Clare Fearnley, Group Captain Rod Fortune, and three New Zealand Defence Force personnel currently deployed to Korea in support of maintaining the Armistice Agreement.
During the war 45 Kiwi soldiers lost their lives, including at least four Māori: Dickson Ngatai from Mangakino, Joseph Shortland from Taipuha, Bryce Whangapirita from Wellington, and Ray McDonald from Havelock.
It is estimated that one in seven (850) of the 6000 New Zealanders that served in the Korean War during the 1950s were Māori.
Mr Flavell says during the war Māori soldiers taught Koreans the song Pōkarekare Ana. Subsequently the song's tune was adapted into the popular and very well-known Korean love song Yeon-ga.
In June 1950 New Zealand was one of the first nations to respond to the call of the United Nations Security Council to send troops to Korea.
Within days, the first defence personnel were sent aboard on the frigates HMNZS Tūtira and Pukakī. Over the following seven years, 6000 New Zealanders served in Korea in the ground forces and in the navy.
Nō reira kei ngā ika ā whiro e takoto mai nei ki te māra o te pakanga, haere atu rā koutou. Hoki atu rā ki ō maunga, ki ō awa, ki ō whakamataku. E kore koutou e warewaretia.