The Kōkiritia team recently spoke with the newly appointed Chief Executive of Te Taura Whiri i te Reo Māori – Ngahiwi Apanui.
Published: Thursday, 17 September 2015 | Rāpare, 17 Mahuru, 2015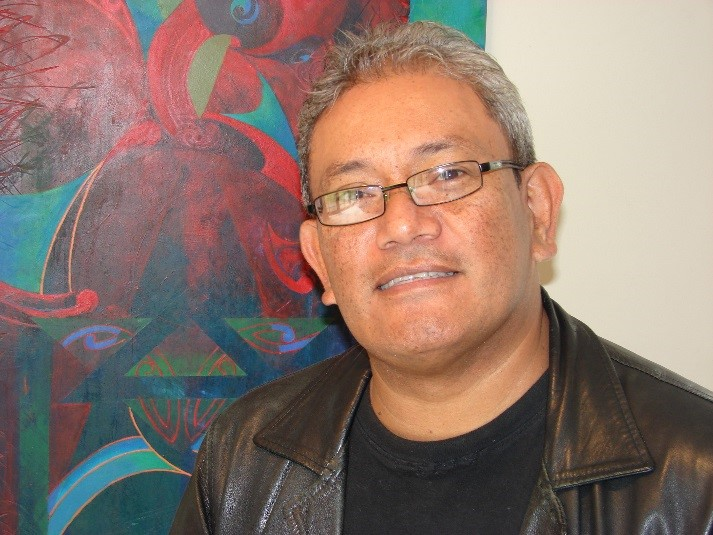 Ngahiwi Apanui (Ngāti Porou, Ngāti Hine and Te Whānau a-Apanui, Ngāti Kahungunu, Tūhoe) is a certified translator and joins Te Taura Whiri i te Reo Māori after six years as the Deputy Director Māori of Ako Aotearoa, The National Centre for Tertiary Teaching Excellence.
Ngahiwi stepped into his new job in August and brings with him a wealth of experience in education and the government sector, plus time as a manager in Māori broadcasting. 
In both his professional and personal life, he is passionate about te reo Maori and can be counted as one of its staunch advocates.   Ngahiwi has launched three solo te reo Māori albums and has a Māori language speaking home with five children who are also Māori language speakers.   
Ngahiwi is full of inspiration about te reo Māori, so we posed some questions to him about his ideas.
What are your thoughts about non-Māori and their role as te reo Māori speakers?
My position on te reo Māori is that it's a responsibility that every New Zealander should carry and share. It's our responsibility to save our language, its unique to this country. I think the focus at Te Taura Whiri has largely been on Māori communities and that's understandable.  I think the focus should also include the rest of the country. If you look at the mission statement of Te Taura Whiri, it talks about the language resounding everywhere in Aotearoa which implies everyone should speak te reo Māori and that will be my attitude as well.
It is one thing to say we cede our mana when we allow other iwi to speak our language, but then on the other hand we want Māori to be spoken everywhere. Now in order for you to speak Māori everywhere, everyone needs to be able to speak Māori. So it makes sense to actually promote the language to everybody.
A young girl asked the Prime Minister what he thought about making Māori Language Week, a Māori Language Month.  He responded that it would dilute it.  What is the Taura Whiri response to that? 
From what I've heard, Māori language week went really well. My view is that Māori language week should be a shop window for te reo Māori, and it becomes an event that leverages relationships with people and organisations, iwi groups, so that the engagement is 52 weeks, not one.
Relationships will be key to Te Taura Whiri achieving its mission. The short term goal for me is the survival of the language, and the long term goal is that the whole country speaks the language.  Ok yes, that may be the utopian vision and might not happen in my lifetime, but my focus is that we take some major steps towards it now.
In 2050, 52 percent of the population will be Māori and Pacific Island.  And culture is going to be central to Māori development and central to the good leadership of Aotearoa. So we need to start putting in those building blocks now. We can't wait until 2030 or 2040.  We've got to start now in every sphere. Te Taura Whiri has a pivotal role to play in that.
Have you thought about a message to the girl who posed that question to the PM and who was quite upset about it afterwards?
I think we all know that Māori language advocacy isn't easy and my advice to her is to keep advocating. It's never easy. I've stood up with Māori musicians in the past 'me tito tātou he waiata i te reo Māori' and people don't like it. Even in Māori radio people are opposed to broadcasts being 100 percent in te reo Māori. For me it was the easiest most natural thing to do, and why Māori radio was created to revitalise and be the salvation of te reo Māori. I don't have a problem with that, but some people did. So to that girl I would say 'keep advocating'.
The key to the continued survival of the language is the creation of Māori language speaking communities.  Each year we spend $77 million on language acquisition but where do these people go to speak Māori, other than on a marae?  To build and maintain momentum we need to create te reo Māori speaking communities.  We can see those Māori language speaking whānau and communities gathering, for example at English medium schools and at te reo Māori units.  These communities need to be helped and supported, where it is safe to speak Māori, safe to make mistakes and fun to speak and learn.
Language acquisition is great, language classes are great, and those language classes can become Māori language speaking communities.  That will be one of the keys for our reo survival and will also be a key focus of mine.