About a thousand people in Wellington are gearing up to perform in a mass haka on the waterfront, to pōwhiri a dazzling fleet of ocean-voyaging waka.
Published: Thursday, 15 February 2018 | Rāpare, 15 Huitanguru, 2018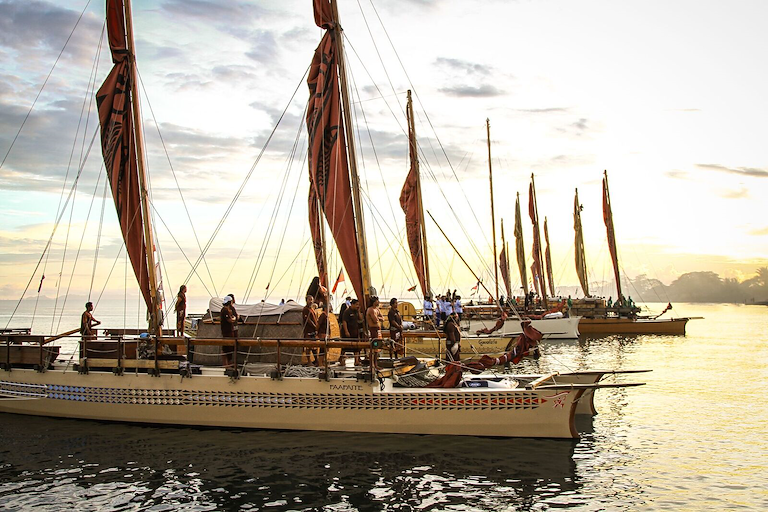 Performers will be joined by tens of thousands of people expected to watch at dusk as the waka hourua descend on Wellington Harbour, on Friday, 23 February.
More than 100 waka paddlers will sail waka hourua, waka taua and waka ama in choreographed movements on the harbour. While on land, actors, choirs and kapa haka groups will be welcoming the voyagers to Te Whanganui a Tara.  
The Kupe event is part of 'A Waka Odyssey', which will open the 2018 New Zealand Festival. The festival's artistic director Shelagh Magadza says A Waka Odyssey will honour and celebrate our voyaging history.
"This stunning opening night event is an amazing way to open our three-week festival and we feel privileged that waka hourua vessels will travel to the Capital from all around Aotearoa," she says.
"A Waka Odyssey promises to be a poignant and historic cultural event for New Zealand, and is the perfect fit with the 2018 Festival's theme of journey, home and belonging."
It is set to be an electrical evening, as up to a thousand people unite for a spine-tingling haka that pays tribute to Kupe, a great chief of Hawaiki who is said to have been one of the first voyagers to discover New Zealand.
Students across the region and members of the public sector have been rehearsing the new haka for weeks, which they will perform together when the fleet arrives.
Te Puni Kōkiri sponsored part of the event, and its staff have been attending regular haka practices. Te Puni Kōkiri kaimahi Jacob McGregor says it is going to be a powerful moment when everyone unites for the haka.
"I get excited thinking about hearing that first call from the kaea (leader) rip through the air – that moment when we all start stomping our feet on the waterfront in unison," he says.
"It has been a rewarding experience learning the haka with lots of new people who work in the city. Everyone is charged and ready to give the waka a real solid welcome." 
The theatrical spectacle will mark the beginning of a week of activity inspired by waka hourua and Pacific voyaging. As well as fun activities like a free Whānau Day at Petone Foreshore, there is an extensive education programme associated with A Waka Odyssey, traversing the themes of navigation, voyaging, science, environment, sustainability, and history.
The New Zealand Festival will run from 23 February to 18 March.