Iwi, hapū and Māori communities throughout the country are taking up the unique opportunity to carry out 3D scanning and point cloud visualisations of taonga tūturu and marae.
Published: Friday, 16 February 2018 | Rāmere, 16 Huitanguru, 2018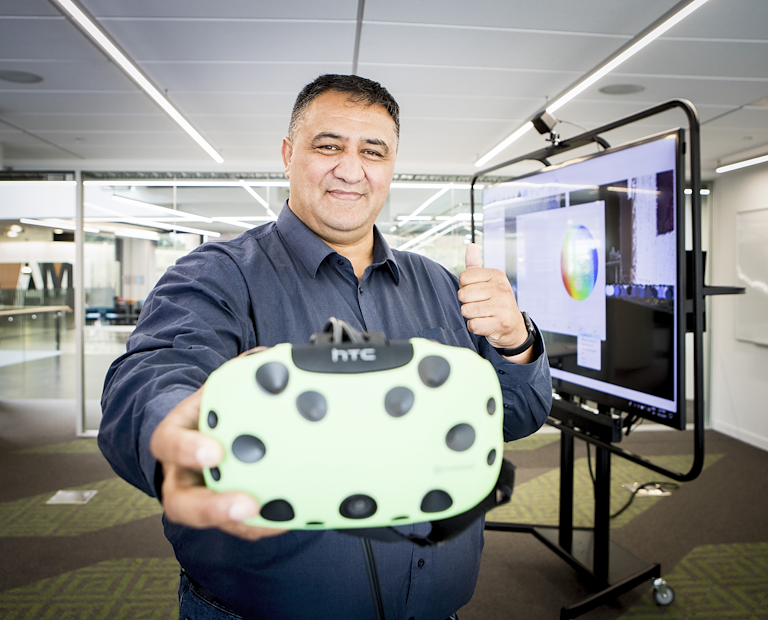 PointCloud Visualisation Limited (PCV) has a unique software that can quickly and accurately (up to 1mm) render large sets of digital data (i.e. the "point clouds" generated by 3D scanners) into 3D visuals or models.  These 3D representations can then be experienced in virtual reality (VR).
Since receiving Ka Hao funding support PCV has been able to apply the technology to the scanning of marae, creating models that will stand as robust digital records of these structures.
Among the marae that have been scanned include Te Tumu Herenga Waka (Victoria University of Wellington) and Waiwhetu in Lower Hutt.
"This was our opportunity to communicate our history through technology," says Waiwhetu Marae Chairman, Kura Moeahu.
"Rather than sitting on the floor looking up, we could look directly at a particular design in the poupou, tukutuku or kōwhaiwhai panel through the 3D models to tell the story of our meeting house."
Kura describes the experience of putting on the virtual reality googles for the first time as 'mind blowing'.
"Instead of putting on googles to go diving for kina you were diving for knowledge to fill up your mind. It was amazing."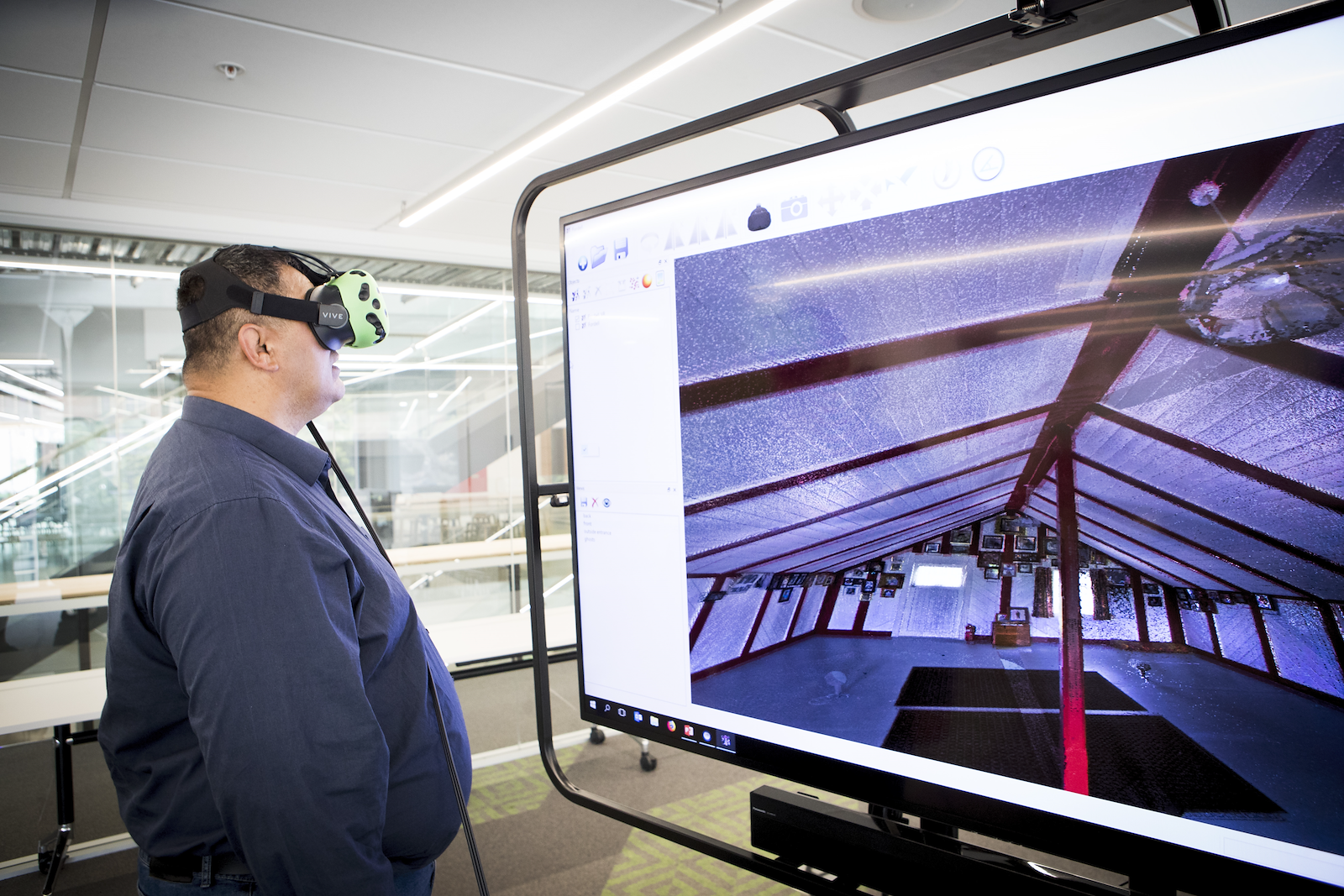 Māori students upskilled
As part of wider education programme, young Māori students (aged mostly between 13-17 years of age) were invited to learn first-hand how the 3D scanning operates. The students assisted with the scanning process, asked questions and gained technical insights from the staff who carried out the scanning of the marae.
From the scanning at Kauangaroa Marae, the students commented their involvement in the project had been 'inspiring and an eye-opening' in terms of upskilling and sparked their interest in considering a career in the digital technology sector, particularly working with virtual reality and its applications.
In addition to working with marae, the company have hosted several workshops around the country to showcase the technology to Māori ICT student and others with a keen interest in the technology industry.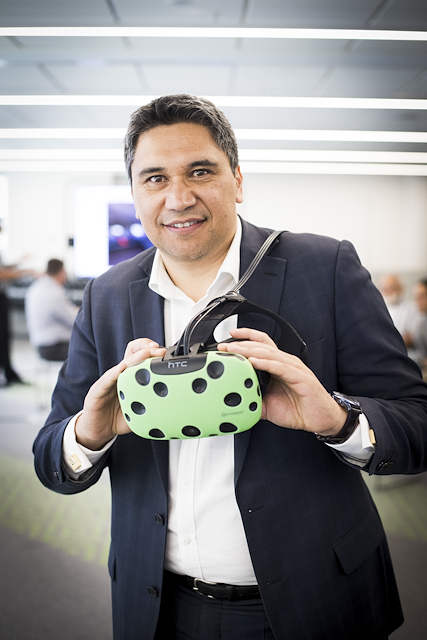 "We know rangatahi Māori are early adopters of new and emerging technologies, and are incredibly savvy operators of those technologies; however, this hasn't transferred into seeing more Māori working in the technology industry. We want to help change that because we think innovation and technology are important for Māori to get into," said Co-founder of PointCloud Visualisation Limited, Toko Kapea.
"The workshops are a great way to show what the scanners can do. Rangatahi get fascinated by that and want to learn more."
The other half of PCV, Co-founder and Director, Dr Maher Hatab, has developed PCV's technology. Maher holds a PhD in Virtual Reality and at the workshops shows the eager Māori ICT students how his software processes LiDAR generated by 3D scanners into optimised 3D data representations that can be experienced in virtual reality.
A HTC Vive is then set up at the workshops to allow workshop attendees to walk inside models of the marae and several other structures that have been scanned.
Moving forward
PCV are now in the process of discussing the best way to hand over the scanned data from applying PCV's technology to the committees of each marae that took part in the project.
As each marae committee may have different views, interests and particular circumstances such as budget constraints, PCV are exploring tailored solutions and will work with each marae committee so they can use and access the data outputs as soon as possible.
The feedback received from the students and participants in the project has been encouraging to exploring ways of delivering similar activities. Already, other Māori groups have showed an interest to have their marae scanned and rangatahi upskilled.
Following the scanning of Auckland University of Technology's (AUT) marae, Te Ara Poutama, AUT's Faculty of Māori Indigenous Development, are interested in engaging Dr Maher Hatab and Recon Ltd respectively as their preferred 3D/VR expert and scanners to train the students further.
PCV are also actively exploring business development opportunities. As such, an agreement with one of Australasia's largest providers of information technology services is under development and it is through this relationship that PCV will be able to service this company's clients. It is anticipated that significant growth is expected for PCV, potentially leading to the creation of jobs.
Toko shares that with the new partnership that they expect significant growth for PCV potentially leading to the creation of jobs.
"When the time comes to fill new jobs we will welcome the Māori students to fill the positions that have been a part of the project," said Toko.
Given the interest in replicating and expanding the project to other marae and taonga tūturu across the country, PCV will be looking to develop phase two for the project through another application to the Ka Hao Fund.
Applications for the Ka Hao Fund are now open
Applications are now open for the Ka Hao Māori Digital Technology Development Fund. 
Applications open on 9 February and close on 9 March 2018.