Kokohinau Marae has kick-started its papakāinga housing development with a 'turning of the sod' ceremony in Edgecumbe. The papakāinga development will be used to help house whānau who lost their homes in the Edgecumbe floods in April.
Published: Thursday, 10 August 2017 | Rāpare, 10 Hereturikōkā, 2017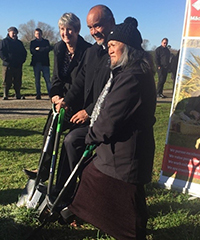 Just 5kms south of Edgecumbe, work is underway to fast track a housing development being built at Kokohinau Marae. Eventually it will be used for affordable housing for kaumātua, but the Ngāti Awa hapū, Pahipoto, wants to initially use it to house whānau impacted by floods.
Kokohinau Marae Papakāinga Trustee Taupara Dean Eruera says it was important to escalate the build of the papakāinga housing to support whānau who have been displaced from the Edgecumbe flooding.
"We could see there was a need in the community for emergency housing for whānau who had lost their homes in the flooding," he says.
"We saw the papakāinga development as an opportunity to manaaki our whānau who have been impacted by the floods."
A total of five two-bedroom homes are to be built as well as infrastructure support such as power, water supply, sewerage and roading to cater to up to 31 homes.
Te Puni Kōkiri officials have been involved in the Kokohinau Marae emergency housing response since its inception and have worked closely with the Ministry for Business, Innovation and Employment and Whakatāne District Council to bring forward plans to respond to the immediate needs of whānau within the rohe.
Construction will begin immediately with support from the Whakatāne District Council and the Bay of Plenty Regional Council to expedite all planning consents as an emergency housing response.
Te Puni Kōkiri and the Ministry for Business, Innovation and Employment will split the contribution of more than $2.6 million towards the housing development.
Māori Development Minister, Hon Te Ururoa Flavell, and Deputy Mayor for Whakatāne District Council, Judy Turner attended the 'turning of the sod' ceremony on 19 July to mark the commencement of the construction of the papakāinga.
In his speech, the Minister Flavell applauded Kokohinau Marae and partnering agencies for working together.
"The Kokohinau Marae papakāinga project is a great example of what can be achieved when parties come together to collaborate," Mr Flavell says
"The partnerships and networks forged between Pahipoto Māori Committee, Kokohinau Marae, government agencies and local authorities underpin the success of this development."
In addition, Te Puni Kōkiri supported the Pahipoto Māori Committee $73,600 towards the feasibility stage for providing emergency housing in response to the Edgecumbe floods. Despite the recent developments papakāinga housing is nothing new to Kokohinau Marae.
Mr Dean Eruera shares that the whenua for the papakāinga build once had numerous homesteads occupied by the tipuna of Pahipoto hapū. Unfortunately, over time, these homesteads have fallen into disrepair and have since disappeared.
"Providing marae-based homes for our people offers an opportunity to reconnect our whānau, hapū, iwi, marae and communities," he says.
In addition to the new homes, the Trust aspires other developments for the papakāinga including a marae-based whare oranga and social welfare hub to support the health and wellbeing of whānau, hapū, iwi members. It also has plans for a maara kai to support events at the marae and the residents on the papakāinga whenua.
The Trust is also exploring the establishment of a business arm to build financial capacity.
For other enquiries about emergency housing assistance, you can contact the following agencies:
Ministry for Social Development
The Ministry of Social Development can provide a range of housing support, including emergency housing, access to social housing tenancies and accommodation supplement payments.
0800 559 009
msd.govt.nz
Housing New Zealand Corporation provides information and advice to tenants on everything they need to know about renting from HNZC.
0800 801 601 (8am – 8pm Monday to Friday)
enquiries1@hnzc.co.nz
hnzc.co.nz