Kokohinau Marae have kick-started their papakāinga housing development with a 'turning of the sod' ceremony in Edgecumbe. The papakāinga development will be used to help house whānau who lost their homes in the Edgecumbe floods in April.
Published: Wednesday, 19 July 2017 | Rāapa, 19 Hōngongoi, 2017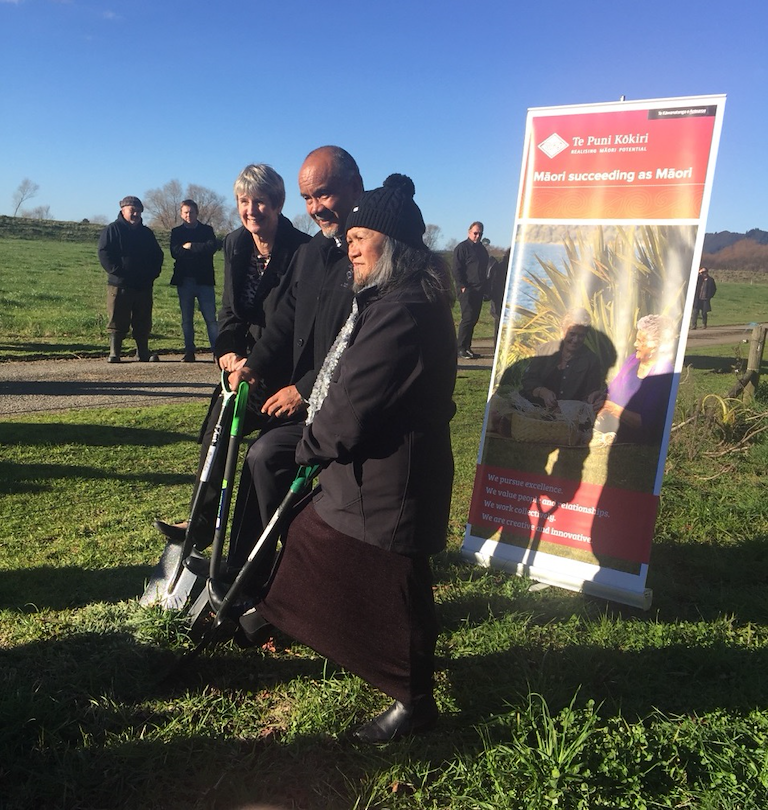 The development being built at Kokohinau Marae 5km south of Edgecumbe will eventually be used for affordable housing for kaumātua, but the Ngāti Awa hapū, Pahipoto, have elected to initially use it to house whānau impacted by floods.
"It's fantastic that Kokohinau Marae have stepped up to provide their papakāinga for emergency housing for whānau who were displaced from the floods. It is especially humbling they have chosen to take on the development for the benefit of flood affected whānau," says Te Puni Kōkiri Senior Advisor Shaneen Simpson-Almond from the Whakatāne office.
Shaneen was involved in the Kokohinau Marae emergency housing response since its inception. She has worked closely with MBIE Officials and Whakatāne District Council to bring forward plans to respond to the immediate needs of whānau within the rohe. She shares 'working together we were able to speed up the approval process within our organisations'.
Construction will begin immediately with support from the Whakatāne District Council and the Bay of Plenty Regional Council to expedite all planning consents as an emergency housing response.
A total of five two-bedroom homes are to be built and infrastructure support for up to 31 housing sites including power and water supply, sewerage and roading will be provided at Kokohinau Marae.
The papakāinga is a great example of the partnership between Te Puni Kōkiri national and regional office teams coming together to engage their respective relationships with Wellington agencies and local authorities to get the project off the ground.
Shaneen shares a key insight from working on the Kokohinau Marae papakāinga development was the need to have open and honest communication with the haukāinga and hapū.
"Because processes were fast tracked, I think being upfront with them every step of the way is crucial. This included managing their expectations and clearing the air about the difference between social housing and emergency housing," said Shaneen.
Te Puni Kōkiri and the Ministry for Business, Innovation and Employment will split the contribution of more than $2.6 million towards the housing development.
Minister, Hon Te Ururoa Flavell, and Deputy Mayor for Whakatāne District Council, Judy Turner attended the 'turning of the sod' ceremony to mark the commencement of the construction of the papakāinga.
In his speech, the Minister Flavell applauded Kokohinau Marae and partnering agencies for working together.
"The Kokohinau Marae papakāinga project is a great example of what can be achieved when parties come together to collaborate," Mr Flavell says
"The partnerships and networks forged between Pahipoto Māori Committee, Kokohinau Marae, government agencies and local authorities underpin the success of this development."
In addition, Te Puni Kōkiri supported the Pahipoto Māori Committee $73,600 towards the feasibility stage for providing emergency housing initially in response to the Edgecumbe floods and whānau being displaced from their homes.
Photo caption: 'Turning of the sod' ceremony at Kokohinau Marae papakāinga to mark the commencement of the papakāinga build, 2017. Pictured from left to right: Whakatāne District Council Deputy Mayor, Judy Turner, Māori Development Minister, Hon Te Ururoa Flavell and Kokohinau Marae Kuia, Merehuka Holt.